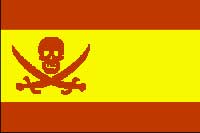 Internet users in Spain are very happy to download music and movies without permission, a situation which has led the country to be admonished by entertainment companies and even the United States government.
Recently Spain has been trying to repair its image and last week the government approved a new bill which if passed will see operators of file-sharing sites jailed for up to six years.
While the U.S. will welcome any kind of clampdown, many believe that there is no legislative way out of the problem. Spaniards are used to the culture of copying and site admins will be able to sidestep the new law by moving their operations overseas.
Recently a new and interesting voice has entered the debate. Carles Pastor, a film and TV producer for many years, recently launched a brand new search engine designed to direct Internet users towards legal video content.
At first glance Beodee looks very much like the new wave of torrent and streaming sites, but this site is financially supported by Spain's Ministry of Education, Culture and Sports. During its launch earlier this month, Pastor expressed confidence that by catering to the needs of the many thousands currently downloading movies for free, the site can help in the fight against piracy.
In an interview yesterday, Pastor expressed optimism that things can move forward but stressed a need to "totally reinvent" the movie business model to reintroduce those currently using unauthorized sources, adding that chasing down pirates and passing new legislation is not the answer.
"The whole sector cannot be dying at the same time as you see more movies [being produced] than ever," he noted. "We should instead maximally conform to consumer needs."
Pastor is hoping to achieve the above through his new platform. Beodee currently indexes around 6,700 feature films, TV shows and documentaries and offers a price comparison service for users looking to find content right now at the cheapest possible price.
The producer acknowledges that things won't be easy. Spaniards aren't exactly famous for willingly paying for content but he hopes that with a good service and fair price matters will improve. There are, however, further significant obstacles to overcome, such as restrictions on offering movies still in cinemas and pricing interference from "large North American producers" which limits competition.
Nevertheless, Pastor hopes that with increased marketing and competition, Internet download platforms and search engines like his will help bring an end to the monopoly. Beodee currently has expansion plans for France, Germany, Holland and several Latin American countries. To our knowledge no comparable service operates in the United States.