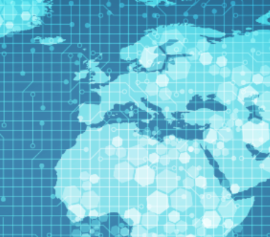 Following a request by the Office of the United States Trade Representative for stakeholders to identify so-called 'notorious markets' involved in large-scale infringement, submissions are now publicly available.
After reporting on submissions by the Motion Picture Association (MPA) (1) and Recording Industry Association of America (RIAA) (2) this week, today we present a roundup of three key submissions, all of which target the pirate IPTV / live sports streaming ecosystem.
Anti-Piracy Coalitions, Members, Overlaps
Submissions by the Audiovisual Anti-Piracy Alliance (AAPA), Football Association Premier League, plus a joint submission by beIN Media and Miramax, contain considerable detail on the problems faced by sports leagues and their broadcasting partners.
In some cases the nominated pirate services appear in more than one report. That's not unexpected among companies in the same market but since some rightsholders are represented in more than one submission, for the sake of clarity those are shown in bold below.
AAPA members: Altice France, beIN Media Group, Canal+, Cosmote TV, CryptoGuard, Cyta, DAZN, DFL, Friend MTS, Irdeto, LeakID, LFP, Liberty Global, Nagra Kudelski, NOS, OPSEC, Premier League, Sky, Synamedia, United Media, Verimatrix, Viaccess Orca, Viaplay Group, Vodafone Ziggo, Wiley (S1)
Individual submission: Sole rightsholder Premier League (S2)
Joint submission: Miramax and beIN Media (S3)
Illicit IPTV Services
BestBuyIPTV heads the list of illicit IPTV services in the Premier League's individual submission (S2).
"BestBuyIPTV is a very popular global IPTV service that carries channels from broadcasters located all around the world, including many that carry Premier League content. Investigations conducted by the Premier League have located the operator of the service in Vietnam." (Premier League)
Forever TV (affiliates Chaloos and Mediastar) takes the top spot in both the AAPA's submission (S1) and the joint beIN/Miramax submission (S3). The IPTV service appears second in the Premier League's report and is considered a major threat.
"The service operates from a website at https://foreveriptv.net/ where it offers subscriptions to its service as well as a re-streamer and re-seller program, which rewards third parties for further distribution of its pirated content." (AAPA)
"These services between them are responsible for the unauthorized provision of thousands of premium TV channels and on-demand movies and TV content. Chaloos was named by the United States Trade Representative ('USTR') on its 2022 Notorious Markets List." (Premier League)
Other IPTV services listed by the Premier League include the following (comments summarized):
EVPad: One of the most popular illicit streaming services across South East Asia. The business is extremely sophisticated. A product purchased on behalf of the Premier League was found to provide access to over 1,700 channels, including 75 offering live sports broadcasts. The operators have been very careful to hide their location and identities, Premier League links them to Hong Kong and China.
Family Box: Nominated in both Premier League and beIN/Miramax submissions. "Family Box is both a terrestrial pirate organization covering Kurdistan, and an IPTV pirate organization with global coverage. Its offices are in Erbil, Iraq," beIN reports. Almost identical text appears in the Premier League's individual submission, most likely since they're both members of AAPA.
Globe IPTV: One of the most prominent wholesalers of content to pirate services around the world. Has supplied multiple pirate services that have been the subject of historical and ongoing legal action. Rightsholders have identified Globe's operator in Lebanon.
(TF note: Globe was a supplier to Flawless TV. The roles were later reversed)
SVI Cloud: An illicit streaming device very popular in South East Asia. Operates both online and through an extensive list of resellers with over 70 physical locations listed as selling the device on their official website. (TF note: 17 people were arrested in Singapore early October and 2,500 devices seized. Follows a similar crackdown in Taiwan.)
Pirate Streaming Sites/Cyberlockers/Others
Both AAPA and Premier League have nominated web-based streaming sites to the USTR and in some cases the same platforms appear on both lists.
Livetv.sx, a popular sports stream indexing site, receives nominations from both, with the Premier League noting its availability in 12 different languages and an estimated 129 million global online visits since October 2022. The site is subject to Premier League blocking injunctions in multiple jurisdictions. AAPA believes the site is operated from Cyprus, Kazakhstan and/or Russia.
Freestreams-live1 receives a nomination from the Premier League. Previously the site operated from the domain freestreams-live1.com, but after that was seized by Homeland Security Investigations, freestreams-live1.tv became the site's new domain.
Totalsportek (Poland), VIPBox (Germany), and Xoilac (Vietnam) were also reported by the Premier League.
LSHunter.net, Streamonsport, Rojadirecta, Soccerstreams.football, Totalsportek.pro, Filmmoviplex.com, RLSBB, Soap2day (variants), 1movieshd.com, Papadustream, Score808, futemax.to, Pobretv.net, and YTS, were reported by AAPA.
We conclude with the AAPA's cyberlocker and eBook nominations which include both Sci-Hub and Libgen due to publisher Wiley becoming an AAPA member.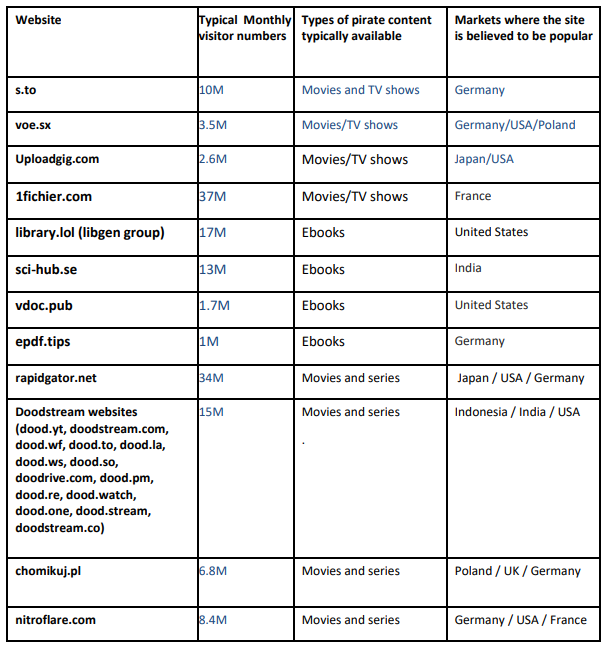 The AAPA's submission to the USTR is available here (pdf)
The Premier League's submission is available here (pdf)
The beIN / Miramax submission is available here (pdf)
———-
Other AAPA IPTV nominations not detailed above: GoGo IPTV, Apollo 5, Yacine TV, Cobra TV, IPTV Smarty, IPTV Main, Bobres IPTV, SyberTV, Apollo Group TV, Xtreme HD, King IPTV, Orca IPTV, Dezor, META IPTV, 4KEVO IPTV, and XCTV IPTV.
(TF note1: AAPA reports that Cobra IPTV is "one of the most significant pirate IPTV services with worldwide popularity. TF note2: Sky obtained permission from the UK High Court in July to block IPTVMain's servers. Others subject to blocking include BunnyStreams, GenIPTV, and GoTVMix)