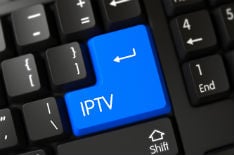 In the wake of Italian police shutting down a 900,000 user pirate IPTV service last week, police in Spain have followed up with an operation of their own.
Information provided by Policía Nacional and EUROPOL does not include the service's name but according to the numbers, the operation appears significant. The IPTV service had more than 500,000 subscribers all over Europe, serviced by a network of resellers.
Police say they disabled 10 administration panels connected to 32 servers located in France, the Netherlands and Spain. Those locations are reported as playing host to "illegal television content" and related computer equipment.
Packages bought by subscribers gave them access to 2,600 live TV channels plus a library of 23,000 movies and TV shows. An interesting factor is the reported age of the service – at least a decade of operations according to Spanish police.
Investigation Launched in 2020
The investigation began in 2020 following a complaint from the Alliance for Creativity and Entertainment. Police say that they uncovered a network, operating through various companies, that had been fraudulently commercializing video content since 2012.
Websites were used to advertise and sell the illegal subscription packages and like many similar IPTV platforms working at scale, a network of resellers helped to cascade sales from the top-level service into the consumer market below. Police say that than 95 resellers represented the service in Spain, UK, Malta, Portugal, Cyprus, and Greece.
Big Service, Big Money
Numbers provided today by Policía Nacional will almost certainly change, if and when a case goes to trial, but by most standards they remain significant.
Annual profit – not revenue – is currently estimated at 3,000,000 million euros. Investigators say the money was laundered in Spain and elsewhere.
Through bank accounts held by companies in Spain, the suspects allegedly transferred money to bank accounts held by other companies under their control, located in unnamed paraísos fiscales, aka tax havens. Profits also funded luxury homes in the Malaga region of Spain and the formation of new companies to support criminal activity.
Arrests and Seizures
Police say they seized two high-end vehicles with an estimated value of 180,000 euros along with 2,800 euros in cash, IT-related materials, and other documentation. Eight bank accounts were frozen and four people were placed under arrest.
"The operation ended with four detainees in the Málaga municipalities of Benahavís (2), Mijas (one person arrested and another under investigation) and Benalmádena (1)," a police statement reads.
Efforts to identify more people involved in the organization continue in other countries.
Update:The Alliance for Creativity and Entertainment played a key role in this investigation and has just provided new information regarding the IPTV service targeted.
The service worked under various brands including TV Choice Spain, Great TV Choice, and Best TV Choice. ACE reports that the services were promoted via real estate agencies, mainly in the coastal areas of Spain, and were actually shut down on October 19, 2022.
Authorities raided the main suspects' residences in Marbella, shut down nine IPTV servers, and froze bank accounts containing 3 million euros.
"ACE is proud to support the effective actions taken by the Spanish National Police and Europol against this illegal IPTV piracy ring," said Jan van Voorn, Executive Vice President and Chief of Global Content Protection for the Motion Picture Association and Head of ACE.
"We are honored to continue our work with law enforcement agencies and other partners around the world in our crucial fight to combat large-scale piracy operations and protect the creative marketplace."