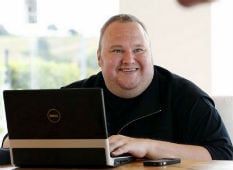 New Zealand-based entrepeneur Kim Dotcom has dealt with numerous copyright infringement allegations in recent years.
The United States launched a criminal case against Dotcom and wants him extradited, while the major movie and music companies filed their own suits against Megaupload's former boss.
This week he can add another allegation to this growing list, a rather unusual one too as it comes from cloud hosting service Mega, a company he founded.
Dotcom has been using Mega to share his first music album "Good Times" with everyone who wants to give it a spin. While he holds all the rights, several prominent music labels kept informing Mega that the album was "infringing."
A few weeks ago we learned that the takedown requests were all inaccurate, and triggered by a prankster. However, that apparently didn't stop them from coming in and as a result Dotcom has now had his Mega account terminated for repeatedly violating the terms of service.
Those who try to grab a copy of the album via the official download link on Kim.com see the following message:
"The file you are trying to download is no longer available. The associated user account has been terminated due to multiple violations of our Terms of Service."
The account termination probably won't last as it was triggered by false takedowns. However, it shows how easy it is to abuse the takedown process to shut down people's accounts, at least temporarily.
Previously Mega told TF that they take every takedown notice seriously, but that they also plan to set up a system where repeated false takedowns can be flagged to prevent this type of abuse in the future.
"We are improving our systems to monitor the takedown process and will eventually be able to identify repeated incorrect notices," a Mega spokesperson said.
For now, we hope that Dotcom has his files backed up in a safe place.
Update: Kim Dotcom told us that the following takedown notices were received for his album.The account has now been reinstated.
Aug 18 – IFPI – allegedly "The Golden Echo" by "Kimbra"
Sep 1 – IFPI – unspecified, could be any of "DAVID BISBAL, ARIANA GRANDE, EMINEM, ALEJANDRO SANZ, VA, U2, CESAR MENOTTI E FABIANO, CARTEL DE SANTA, CRAIG DAVID, GREEN DAY, DUNCAN DHU, PLAYA LIMBO, RICARDO ARJONA"
Sep 15 – Begian Anti-piracy Federation – allegedly "X" by "Ed Sheeran"
Oct 11 – MarkMonitor on behalf of the Entertainment Software Association – allegedly "ALIENS"
Oct 12 – NBC Universal – allegedly "Anarchy" by "The Purge"
Oct 22 – MarkMonitor on behalf of HBO – allegedly "Boardwalk Empire"
Oct 23 – MarkMonitor on behalf of CBS – unspecified, could be any of "NCIS: NEW ORLEANS, NCIS, STAR TREK: DEEP SPACE NINE, EXTANT (2014), PENNY DREADFUL, HAWAII FIVE-0 (2010)"