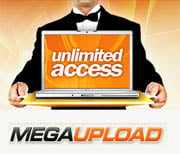 The domain name Megaupload.net was just put up for auction again on SEDO.
Two weeks ago we reported that the domain, which didn't belong to Megaupload, was sold to an anonymous bidder but this person didn't pay up.
"After numerous attempts by Sedo.com to contact the buyer I was given the option to re-list the domain for sale. The second option was to hire a lawyer and sue the buyer," Megaupload.net's current owner told TorrentFreak.
"I decided not to sue the individual for non-payment because he lives on the other side of the world, in Kazakhstan."
Those who are interested in the domain name will have to cough up a few thousand dollars.
And once you bought it… what then? Starting a cyberlocker on the domain will be a tricky venture.
Not only will the US Government keep a close eye the site, Kim Dotcom and friends may also sue for trademark infringement.