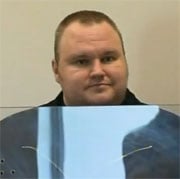 Megaupload founder Kim Dotcom was released on bail by North Shore District Court Judge Nevin Dawson today.
Dotcom had been held in custody since an anti-terrorist police squad raided his Coatesville mansion last month following a lengthy FBI investigation.
While the prosecution argued that Dotcom would have the financial resources to flee the country, the Judge concluded that "none of significance" were found.
An investigation did turn up four additional bank accounts in the Philippines but they were all empty.
As a result the Megaupload founder was released from prison and will continue to fight the accusations of the United States, where he is wanted on racketeering, copyright infringement and money laundering charges.
Although no longer in prison, Dotcom will have to abide by several strict conditions at his Coatesville house. No helicopters will be allowed to land on the premises, Dotcom will have to give police 24 hours notice should he choose to leave, and when he does there will be a limit of 80km to his travels.
The Megaupload founder will also be denied access to the Internet. Dotcom's lawyer Paul Davison tried to lift the Internet restriction by arguing that it was unrealistic since his client has to stay in touch with his US-based defense team.
"It's like saying he shouldn't have access to a telephone, it's such a fundamental means of communication," Davison noted.
Prosecutor Anne Toohey said that Internet access would increase the risk of a Megaupload resurrection in a jurisdiction where US authorities can't touch it.
Bram van der Kolk, Mathias Ortmann and Finn Batato, three other Megaupload employees named in the "Mega Conspiracy" indictment, were all previously released on bail. The former recently called on the New Zealand authorities to keep its dignity in its extradition dealings with the United States.