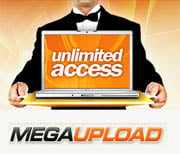 A case that seemed, just 5 months ago, to be a veritable David and Goliath fight is certainly living up to its billing.
The battle between Megaupload (David) and the US Government and the MPAA (Goliath) started out with a flurry of blows against the New Zealand based site staff, but in recent weeks the blows have all been falling stateside.
Today, the New Zealand High Court ruled that the search warrants used to raid Dotcom's mansion were illegal, casting uncertainty over the entire 'Mega Conspiracy' case.
An earlier ruling by High Court Justice Judith Potter concluded that a previous search and seizure order was invalid because of improper paperwork. The documents were later corrected.
In the ruling, Chief Justice Helen Winkelmann declared the warrants illegal, noting that they were not adequately descriptive of the offenses Dotcom was accused of.
"Indeed they fell well short of that. They were general warrants, and as such, are invalid," she said.
In addition, the data removed from New Zealand by the FBI (which they claim was 'not stolen', since it was 'only data') was also ruled to be illegally obtained, and should not have been taken out the country.
"…the release of cloned hard drives to the FBI for shipping to the United States was contrary to the February 16 direction under section 49 (2) of the MACMA [Mutual Assistance in Criminal Matters Act] that the items seized were to remain in custody and control of the Commissioner of Police. This dealing with the cloned hard drives was therefore in breach of s49(3) of the MACMA."
Winkelmann also voiced concerns over police conduct, questioning if their actions in January amounted to unreasonable search and seizure, with a preliminary view that they did. Along with these concerns came a note that the raid could be considered trespass by the police, not something the elite anti-terrorist team used for the raid will want on their record.
Perhaps the biggest setback for any prosecution relates to what evidence was collected. An independent, and appropriately experienced High Court lawyer will now conduct a review of the evidence to determine what is and is not relevant to the charges Dotcom faces.
Anything deemed not relevant will be returned to Dotcom, and not provided to the US. Anything deemed relevant will be copied to both Dotcom and US authorities for use in court.
While the ruling does not amount to the unequivocal quashing of the search warrants and the invalidation of any evidence collected through them, it is a significant win for Dotcom. Meanwhile a request for the cloned hard drives to be returned (presumably without being copied) has been made to US authorities. The amount of respect for the New Zealand legal system held by US authorities may be inferred by the time it takes to comply with the request.
As for the extradition hearing? That's still going ahead.