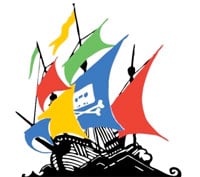 Despite the growing availability of legal music services in many countries, record labels keep battling ever popular pirate sites.
In an attempt to prevent these sites from expanding their audiences, music industry groups BPI and RIAA send millions of takedown notices to Internet services every month. Most of these requests are directed at Google.
This week the two most prolific industry groups reached a new milestone after they notified Google of the 200 millionth allegedly infringing URL. This is up from 100 million little over a year ago.
According to the most recent statistics the BPI has reported over 138 million links in 295,730 notices with the RIAA adding more than 63 million in 19,569 requests.
While the record industry groups have little to complain about when it comes to Google's response rate, they believe that removing links alone is not enough.
"The fact that BPI and RIAA have together removed 200 million illegal results from Google demonstrates just how much more needs to be done to clean up search," a BPI spokesperson tells TF.
As highlighted in the past, the BPI and RIAA would like Google to go above and beyond processing takedown requests. According to them, the millions of reported links show that removing infringing links alone isn't working.
"If the digital single market is to unlock growth, consumers need be directed to legal sources for entertainment ahead of the online black market. BPI alone has had to remove 7.5 million links from Google in the last month, protecting UK artists and musicians from sites that steal their work," the BPI notes.
In recent years Google has slowly implemented several changes to appease the record labels. October last year the company implemented the most significant change to its search algorithm to date, aimed at downranking sites that often link to copyright-infringing material.
This significantly reduced the visibility of pirate links in search results and had a major impact on the traffic levels of some sites. However, the BPI believes that more must be done to properly address the piracy issue.
"The changes to Google's algorithm last year represented a positive step," the BPI says.
"But if further progress is not made swiftly to ensure that searches for entertainment content yield overwhelmingly legal results – for instance by boosting the ranking of known licensed sites for appropriate types of search – then the new UK Government and the EU Commission should intervene to make that happen."
Both the UK Government and the European Commission are currently reviewing whether online intermediaries such as search engines should have a legal obligation to protect copyright holders.
Google, however, believes that it has done enough and repeatedly argues that the entertainment industries can themselves do more.
"Piracy often arises when consumer demand goes unmet by legitimate supply," the company noted earlier. "The right combination of price, convenience, and inventory will do far more to reduce piracy than enforcement can."
Based of the current standoff and the increasing rate at which pirate links are being reported to Google, the music industry groups will double the 200 million milestone by the end of next year.