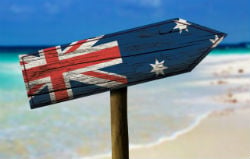 Copyright holders are increasingly demanding that ISPs should block access to pirate sites in order to protect their business.
This is also the case in Australia, where blocking injunctions were made possible four years ago following amendments to copyright law.
The orders are requested under Section 115a of Australia's Copyright Act. This allows copyright holders to apply for injunctions to force ISPs to prevent subscribers from accessing 'pirate' sites.
Over the past two years, many of the world's largest torrent and streaming sites have already been blocked, but the work is far from done. A new application recently submitted at the Federal Court of Australia requests ISPs to block dozens of websites.
The complaint comes from Village Roadshow as well as several other prominent movie companies such as Disney Enterprises and Universal City Studios. For the first time, Netflix Studios has joined in as well, as Computerworld notes.
Netflix's involvement doesn't really come as a surprise as the streaming giant has gradually expanded its anti-piracy efforts of the years. It joined the Alliance For Creativity and Entertainment, for example, as well as the MPAA.
The list of targets identified in the complaint includes a wide variety of sites, including the torrent sites BitTorrent.am and HD-torrents.org, streaming portals Yo-movies.com and Afdah.com, as well as several release blogs such as Scene-rls.com and Crazy4tv.com.
In total, the injunction lists 86 sites, which are operating from a total of 137 domain names.
Interestingly, the court order has a strong focus on Asian content. Several of the targeted sites, such as BTBTT and 123kubo.org, are predominantly popular in Asian countries. In addition, the list also includes many anime sites such as Animeultima.to and Ryuanime.com.
The latter is likely due to the fact that the Australian distribution group Madman Anime Group is listed as one of the applicants as well.
According to the movie outfits, these sites really only have one purpose. That is, to allow their visitors to download, stream or otherwise access copyrighted content.
"The primary purpose of the Target Online Locations is to infringe or facilitate the infringement of copyright," the application reads.
"[T]he owners or operators of the Target Online Locations demonstrate a disregard for copyright generally, in that they provide easy access to the copyright works of others, sometimes in exchange for money, and sometimes on a free basis,"
The list of ISPs that requested to set up the blockades includes Telstra, Optus, Vocus, TPG, Vodafone, and several subsidiaries. If granted, the measures will have to be implemented through DNS blocking, IP-address blocking, or any other means agreed with the rightsholder.
The application follows a well-defined format and considering the movie companies' previous efforts, the blocking order will likely be granted.
—
List of all sites and URLs requested to be blocked.