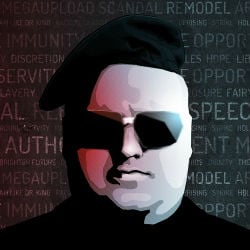 This week the hottest story in file-sharing was the announcement that The Pirate Bay had boosted its security by migrating its operation into the cloud.
Performance and cost issues aside, the main aim of the site is to have as much uptime as possible, and that necessarily involves not getting raided. The site's operators believe they have that covered.
Just a day later and another famous file-sharing operation is preparing for its relaunch with similar issues in mind, albeit from a different angle.
The return of Megaupload – or rather "Mega" as it will be called – will have an eye firmly placed on security to ensure not only a completely legal operation, but one that is almost immune to shutdown.
Speaking with Wired, Kim Dotcom and business partner Mathias Ortmann have been outlining how encryption will strengthen Mega's "safe harbors".
Before users upload their files to Mega they will be encrypted using the AES algorithm. Users will then be provided with a unique decryption key giving them sole responsibility for who can have future use of the file.
Not only does this ensure completely security and privacy for users' files, Mega will have no knowledge of any encrypted file's contents at any stage, effectively deflecting any future accusation that they were aware of how their service was being used.
But of course, none of this can protect Mega from the kind of act-first worry-later strategy employed by the US government when it raided Megaupload in January. So, to counter that kind of threat Mega will employ some technical countermeasures, including placing sets of servers in separate countries.
"So, even if one country decides to go completely berserk from a legal perspective and freeze all servers, for example — which we don't expect, because we've fully complied with all the laws of the countries we place servers in — or if a natural disaster happens, there's still another location where all the files are available," Ortmann explained.
"This way, it's impossible to be subjected to the kind of abuse that we've had in the U.S.," he adds.
In late August, Kim Dotcom announced that Mega would grow to become a global network "to change the world." Today he reinforced that position, telling Wired that the Mega network will encourage all hosts, from the small to the very large, to join up.
"We're creating a system where any host in the world — from the $2,000 garage operation to the largest online host — can connect their own servers to this network," he said. "We can work with anybody, because the hosts themselves cannot see what's on the servers."
As mentioned earlier, The Pirate Bay has also taken steps to ensure their security, but unlike Mega they offer zero cooperation to copyright holders. Right up front Mega say they will be offering full content takedown cooperation with movie and record companies, but it won't be the free-for-all they previously enjoyed.
"This time, if they want to use that [takedown] tool, they'll have to accept, prior to getting access, that they're not going to sue us or hold us accountable for the actions of our users," Dotcom concludes.
The encryption of files is an intriguing move and one that will have lawyers everywhere considering the implications. Whether it will be enough to keep the authorities at bay remains to be seen. We will soon find out.