Over the past months we've discovered pirates in the most unusual places, from the FBI, through major record labels, to the Vatican.
Continuing down this path we decided to take a look at what's being shared from North Korean IP-addresses, threats aside.
With full Internet connectivity limited to a tiny minority of the population there's not much BitTorrent sharing going on, but the results are worth reporting.
A search in the database of BitTorrent monitoring company Scaneye returned 84 titles that were shared from North Korea. These file-sharers used a variety of BitTorrent clients and several IP-addresses that are officially registered to the dictatorial regime.
One of the titles that jumps out immediately is "Net Monitor for Employees Professional," which seamlessly fits the country's profile. Ironically, the downloader in question did very little to cover his or her own tracks.
Spy tools?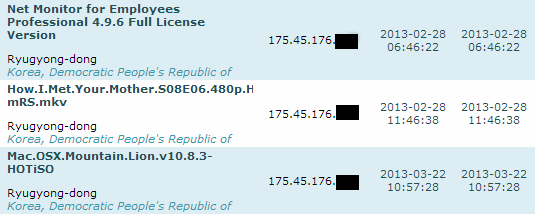 There are also other needs for which BitTorrent can give a helping hand, on the adult entertainment front for example. The screenshot below shows a selection of the adult clips, including the work of Japanese porn actress Marica Hase and her U.S. colleague Alice Frost.
Right here!
Aside from spy tools and porn there are plenty of less controversial titles listed as well. "The Complete Home Decorating Idea Book" for example, which may have been out of stock at the local book store.
American movies and TV-shows are also hard to obtain in North Korea it seems, but the pirated editions are easily accessible online.
"The Following" for example, a TV-show about a psychotic serial killer who leads a cult of serial-killing followers. Or the horror film Death From Above, which features several pro-wrestling stars in the cast.
No place like home…
The above reveals a bit more about the download habits of a few North Koreans. We have to note though, that North Korean IP-ranges have been vulnerable to hijacks in the past so you're never 100% sure who might be using them. Nevertheless, even in these instances you wouldn't expect the hijacker to use IP-addresses for casual downloading.
All in all it's safe to conclude that pirates can be found anywhere in the world and that American entertainment knows no borders.