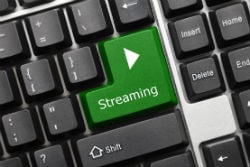 When Disney announced that it would launch its own streaming service, two years ago, some noted that this would keep piracy relevant.
People had just become used to having access to a broad movie and TV library in one or two places, and any increased fragmentation appeared to be a step backward.
Fast forward to 2019 and Disney is about to launch its new service. At the same time, more and more streaming subscription platforms are coming up with exclusive releases. If you want to see those, you have to sign up.
While that may not be a problem for some, there is an audience of millions who don't want to or simply can't pay for a handful of streaming subscriptions. This means that they have to pick the ones they want the most.
That's the hard reality for modern consumers, at least, for those who don't want to break the law.
As it turns out, many people are willing to cross the line, and the increased fragmentation of video streaming service is indeed driving people back to pirate sites. This problem may actually be worse than some think, based on new research that was just published by Broadband Genie.
The broadband comparison/advice site conducted a survey among UK streaming users and found that 18% confessed to using pirate sites on the side. However, this number could more than double to 37% if the legal streaming subscription market continues to fragment.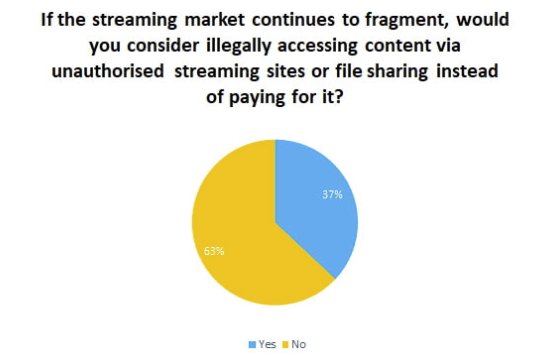 The cost of these services is the driving factor behind the findings. Two thirds (67%) of the surveyed UK streamers feel that they are already paying too much. The average expenditure is roughly £15 a month, where a maximum of £10 is seen as ideal.
Interestingly, those people who consider becoming pirates are not doing so without taking precautions. More than half (60%) of the prospective pirates say they will invest in a VPN to prevent copyright holders from tracing their steps.
Alex Tofts, Broadband Expert at Broadband Genie, notes that we're still a long way from having all video entertainment in one place. People have options to save costs, through family discounts, for example. But instead, many people prefer to pay for a VPN so they can go the pirate route.
"It's disheartening that consumers are prepared to turn to streams and file sharing to access the content they want. The price consumers are willing to pay is the equivalent of subscribing to one service," Tofts says.
Rightsholders, meanwhile, keep repeating that availability is no longer a problem. They are right. In most countries, people can watch pretty much everything they want, but it comes at a price which, according to the survey, they are not willing to pay.
If fragmentation increases most people will still pay for legal services, but an increasing number will additionally use pirate services to watch content that's otherwise only available at platforms they don't have access to.
Availability is no longer the key issue. Instead, the focus has shifted to convenience and affordability. The prospect of signing up and using four or even five different streaming service is not affordable for many people, nor is it convenient.
The solution would be to provide universal access to a multitude of services through a single interface at a decent price. That's what people also get at pirate sites. But this is easier said than done, as it won't bring in enough revenue, at least not at the subscription rates we have now.