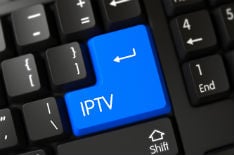 In August 2019, US broadcaster DISH Network and partner NagraStar were maintaining their momentum against unlicensed streaming services.
Together they sued the alleged operators of pirate IPTV platform IPGuys, a popular TV streaming service that sold subscriptions through a network of resellers, which enabled illegal access to DISH satellite programming.
The complaint named Canada-based Tomasz Kaczmarek as the person acquiring DISH satellite broadcasts and retransmitting them via the IPGuys service. It further named New York-based husband and wife team John and Julia Defoe, who were accused of creating and maintaining DISH subscription accounts used to supply content to the IPGuys service.
Seven of the so-called "seeder accounts" (the official subscriptions that allegedly provided the content to IPGuys) shared one or more credit cards as the source of payment and all had either the same passwords or password hints, DISH claimed.
The same credit cards were also used to pay for at least twenty additional DISH subscriber accounts established with false information. One of the twenty accounts was held in the name of John Defoe, DISH said, adding that Kaczmarek sent Julia Defoe "tens of thousands of dollars", while specifically mentioning DISH.
DISH demanded a broad injunction plus damages of between $10,000 and $100,000 for each breach of the Federal Communications Act carried out by the defendants. DISH said the number of violations was equal to the number of pirate subscriptions allegedly sold by IPGuys (estimated at 12,731) leading to a potentially massive damages award.
After nearly two years of litigation, things haven't really gone DISH's way.
Defoes Responded to Complaint, Kaczmarek Did Not
Early October 2019, the Defoes responded to the DISH lawsuit by broadly denying most of the allegations and claiming insufficient knowledge to answer the remainder. Subsequent attempts at mediation failed and in June 2020, the Defoes' lawyer asked to withdraw from the case, citing irreconcilable differences with his clients.
Soon after, the case appeared to lose direction and in February 2021, DISH moved for a default judgment. The matter was referred to Magistrate Judge Sanket J. Bulsara and in June 2021, he recommended that the complaint against Kaczmarek should be dismissed for lack of personal jurisdiction.
Judge Bulsara also recommended that a default judgment should be entered against the Defoes in the amount of $7,000 – a tiny fraction of DISH's demands.
DISH Files an Objection
This July, DISH filed an objection against Judge Bulsara's recommendations, arguing that he was wrong to find that the court lacked jurisdiction over Kaczmarek and that his statutory damages calculation was deficient.
In a memorandum and order, United States District Judge Eric Komitee has now sweetened things for DISH a little but nowhere near the level the broadcaster had hoped for.
Court Lacks Personal Jurisdiction Over Kaczmarek
Summarizing the findings of Judge Bulsara, Judge Komitee notes that the Defoes' role in the operation was that of a supplier. They purchased DISH subscription 'seeder accounts' and resold access to that programming to Kaczmarek who "advertised, packaged, and sold it to customers."
However, that begged the question of whether and how Kaczmarek exercised control over the Defoes. That's a question that DISH has not answered satisfactorily.
DISH claimed that control was shown in the facts that IP addresses associated with Kaczmarek were used to make payments on the seeder accounts maintained by the Defoes and that the Defoes and Kaczmarek have a history of working together to facilitate the unauthorized reception of DISH programming. That didn't go far with the Judge.
"Neither of these allegations suffice to establish agency: the fact that an ultimate purchaser makes direct payments on behalf of its supplier is evidence of cooperation, perhaps, but not control. And the same is surely true of the parties' 'long history'," he notes.
As a result, Judge Komitee concludes that the Court lacks personal jurisdiction against Kaczmarek, a major blow to the damages award.
Question of Damages
47 U.S. Code § 605 (unauthorized publication or use of communications) provides for statutory damages of $1,000 to $10,000 for each violation. Judge Bulsara based his calculations not on the number of IPGuys subscriptions sold (12,731 according to DISH) but on the number of seeder accounts – seven in total.
DISH objected to Judge Bulsara's methodology but Judge Komitee found that his colleague's conclusion was correct. However, he did consider the $1,000 award per violation to be too low.
"[T]here are indications that the Defoes engaged in the infringement scheme for years. The seeder accounts, though just one part, was integral to the scheme's success. The Defoes' conduct also made it harder for Plaintiff to uncover and address. They created the seeder accounts using false contact information, and they did this business with an international partner, against whom it would be harder for the victim of the infringement to seek redress," Judge Komitee writes.
"I therefore assess $2,000 per violation of 47 U.S.C. § 605(a). I do not, however, apply the $100,000 enhancement for willfulness under 47 U.S.C.§ 605(e)(3)(C)(ii) that DISH requests."
Judgment in Favor of DISH, No Injunction
In conclusion, the Judge dismissed the case against Kaczmarek for lack of personal jurisdiction and found the Defoes liable for seven violations of the Federal Communications Act.
He ordered the pair to pay $14,000 in damages but refused to hand down a permanent injunction.
The memorandum and default judgment can be found here (pdf)