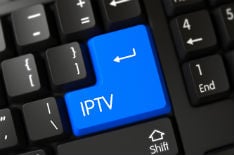 2020 has developed into one of the most memorable years in living memory for the entire planet but for mostly the wrong reasons.
Not a day goes by without news of the coronavirus pandemic and its devastating effect on individuals, families, the economy, and health in general. In common with many industries, coronavirus has hit the entertainment sectors too, with few new films and TV shows coming out (with notable exceptions such as Mulan) as people are either forced or inclined to stay home and stay safe.
Throughout all of this, however, pirate operations have remained mostly online, with notable spikes in interest reported earlier in the year.
IPTV Raid and Arrest But Authorities Didn't Expect This
As part of European efforts to crack down on the supply of IPTV, a few weeks ago officers in the National Tax and Customs Administration raided a pirate IPTV provider. What they found was extraordinary to say the least.
Situated in what appeared to be a fenced-off barbed wire compound with CCTV surveillance, the outside of the building was perhaps not much of a surprise. Adorned with a large number of satellite dishes used to source original programming from the skies, the walls of the structure gave away what may lie inside.
Indeed, the main contents of the building were as expected, such as an office with desks, chairs and various computers, plus a separate area containing what appear to be rows of servers used for capturing TV content from official providers and redistributing it over the Internet.
In total, the authorities seized 52 computers, several decoders, TV cards, plus six servers dedicated to redistribution.
The image above suggests that the operation wasn't set up on the large budgets usually witnessed in police footage from raids elsewhere in Europe but with at least 8,000 paying customers, it was clearly functional.
However, in a video released by the authorities, it is apparent that on some of the server shelves also sit items of food, including dozens and dozens of packets of flour. A panning camera shot also reveals a large refrigerator and then a small mountain of stacked canned food.
Another shot, possibly in another area, reveals little floor space due to yet more stacked cans, a significant area occupied by box upon box of dried pasta packets, plus additional shelves loaded with soft drinks, other foodstuffs, and the coronavirus pandemic staple – dozens of toilet rolls.
An Operator of the Service Was Scared of the Coronavirus
According to the National Tax and Customs Administration, the service was founded by a man from Nagykanizsa who first set out to "redirect" his mother's paid TV package to his own home for free. He teamed up with a man from Budapest to create a service that was subsequently offered to close friends too.
Over time, however, they realized they could make money from the operation and began offering it on an invitation-only basis to outsiders. The network of customers grew and ultimately became available worldwide via the Internet.
However, earlier this year, when the coronavirus started to sweep across Europe, one of the people in charge of the operation reacted like many across the region. In fear of catching what could be a deadly virus, he stockpiled the mountains of food detailed above – hundreds of pounds/kilos – so that he could keep the service running but without having to venture far outside.
"In addition to IT equipment, durable food was in the Budapest property. The young man had accumulated hundreds of kilos of flour, canned food and pasta in fear of the coronavirus epidemic, and had not ventured into the streets for months," the authorities explain.
Damage to Copyright Holders But Also Paying No Taxes
According to estimates provided by the tax authorities, the service is alleged to have generated around HUF 6 million (US$1.97m) for the pair but for reasons that aren't explained, they "forgot" to pay the necessary duties to the state. This explains why the tax authorities were involved in the raid.
"An illegal IPTV service that is provided without payment of royalties infringes copyright or copyright-related rights, which is a criminal offense. The offender can be sentenced to up to eight years in prison," the National Tax and Customs Administration says.
Whether the self-imposed prison sentence of a few months will now be extended to a forced sentence of a few years is currently unknown.