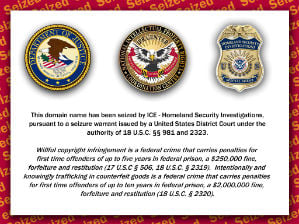 Over the past five years, Operation in Our Sites, the U.S. initiative tackling copyright-infringing websites, has produced several arrests and the seizure of thousands of domains.
In October 2014, ICE Homeland Security Investigations took action against a pair of large U.S.-based websites. RockDizMusic.com and RockDizFile.com were both involved in large-scale distribution of unauthorized music, with the former presenting itself as a music database and the latter its file-hosting partner.
At the time ICE didn't respond to requests for comment but it eventually transpired that the sites' alleged operator, Rocky P. Ouprasith of Charlotte, N.C., had been arrested.
According to papers filed in the United States District Court for the Eastern District of Virginia Friday, Ouprasith operated both sites from around May 2011 through to his arrest last October.
Structure
During that period Ouprasith sourced pirated content online and uploaded it to RockDizFile, while encouraging others to do the same. Ouprasith curated the unauthorized content and then presented it for download on RockDizMusic, which in turn acted as a user-friendly front for RockDizFile. 'Affiliates' who uploaded music were paid based on the number of times their files were downloaded.
RockDizMusic.com
"To operate these websites, OUPRASITH rented and used computer servers in the United States and abroad. OUPRASITH hosted the website RockDizMusic.com on servers originally located in France and later in Canada," court papers read.
"One of OUPRASITH's linking websites, at RockDizFile.com, operated from a computer server in Illinois furnished by the webhosting provider, GigeNET. A second linking website used by OUPRASITH, at SfShare.se, was hosted
from a computer server in Russia."
Profit
According to the prosecution, Ouprasith's aim was to profit from his websites. He sold premium subscriptions to RockDizFile at a cost of up to $90.00 per year, which offered faster downloads and VIP access. Also generating revenue were several deals he had up with to nine advertising firms.
This resulted in decent traffic, reportedly 1.65m visits from 937,000 unique visitors in January 2014. However, that doesn't appear to have made Ouprasith a particularly rich man. Skype messages found on a laptop seized by ICE had the 23-year-old stating that in 2013 he made around $80k but spent $60K running the business.
RIAA and DMCA
Nevertheless, according to the RIAA, in 2013 RockDizFile emerged "as the second largest online file-sharing site in the reproduction and distribution of infringing copies of copyrighted music in the United States."
RockDizFile.com

This growth caused both the RIAA and IFPI to target the site with hundreds of DMCA takedown notices but apparently Ouprasith failed to process them in a legally acceptable manner. A Homeland Security investigation found that although files were taken down, the same reappeared elsewhere on the site.
"In other words, OUPRASITH never took down the infringing files pursuant to the DMCA takedown notices. Instead, he simply created a new hyperlink to the same illegal content," a statement of facts reads.
Arrest and guilty plea
On October 15, 2014, HSI executed a warrant to search Ouprasith's residence in North Carolina. In Chicago, the RockDizFile server was seized, as were ancillary servers in both the Netherlands and France. Ouprasith appears to have cooperated immediately.
"After being advised of his rights orally and in writing, OUPRASITH waived them and agreed to speak with investigators," papers read.
What followed was a near complete confession, including that he made between $3,000 and $4000 profit per month and that in response to DMCA notices Ouprasith would "delete the reported links to the content listed in the notices and then re-upload exactly the same content under new hyperlinks."
In his guilty plea, Ouprasith admits for-profit infringement exceeding $2.5m but less than $7m, plus various other copyright charges including pre-release music piracy. He also agrees to forfeit almost $51,000 and any property used to commit and facilitate the infringement.
When sentenced later this year, Ouprasith faces up to five years in federal prison.