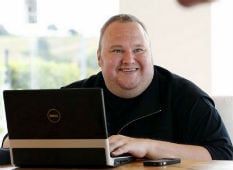 January 2012, New Zealand Police carried out the largest ever action against individuals accused of copyright infringement.
The raid on Dotcom's Coatesville mansion was requested by United States authorities who are now trying to extradite the Megaupload founder and several of his colleagues.
Despite protests from Dotcom about the legitimacy of the search warrants, the raid was found to be legal earlier this year. However, that doesn't mean that all seized property was taken legitimately, and can be kept from the New Zealand-based entrepreneur.
Today the New Zealand Court of Appeal ruled that clones of the seized electronic devices that were seized without authorization should be returned to Dotcom and his co-defendants "as soon as reasonably practicable."
Last month the prosecution explained that the data hadn't yet been handed over because some of it was encrypted, making it impossible for police to verify and investigate its contents.
In its ruling today, the Court of Appeal respects this hesitation but noted that all non-encrypted data should be returned. The rest can follow after the defendants give up their encryption passwords to two nominated police officers.
Previously the Court of Appeal ruled that police crossed a line when they shared cloned data with the United States. In a reference, today's order prohibits the two police officers from revealing the encryption passwords with others.
"[…] in particular to any representative of the government of the United States of America," the verdict reads.