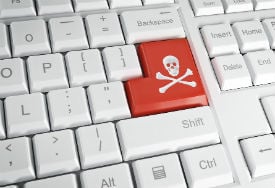 As prices for official multi-channel cable and satellite packages continue to increase, unauthorized streaming TV providers are providing an interesting alternative for those who demand the greatest variety of channels at a cut-down price.
Of course, none of this is legal and as such, authorities are clamping down. Today brings news of yet another pirate raid, this time in the city of Lublin, Poland.
A statement from the Provincial Police Headquarters reveals that officers from the Cybercrime and Economic Crime units conducted an investigation under the supervision of the District Prosecutor's Office in Lublin. Locations in three provinces – Dolnośląskie, Zachodniopomorskie and Wielkopolskie – were searched.
According to prosecutors, the operators of the website illegally streamed the majority of all television channels available locally, including digital TV and state television. More than 160 channels were supplied via the site without permission. Users were initially given free access to the currently unnamed service but were then encouraged to subscribe to a premium package.
Pirate Streaming TV service
(Credit: Polish police)
"The funds obtained from this procedure were invested in the further development of criminal activity and in foreign and Polish companies, of which [the suspects] were owners," a police statement notes.
Local reports indicate three men, aged 30, 42 and 57, were arrested and brought to the prosecutor's office. There they faced allegations of illegally distributing pay television and using the revenue as a permanent source of income.
"We estimate that the suspects could have benefited to the tune of nearly 3.5 million zlotys [840,663 euros] via their illegal practices," police add.
Pirate Streaming TV service
(Credit: Polish police)
In addition to the arrests, police also seized equipment including 12 computers, nine servers, tablets, decoders, telephones, more than 60 hard drives and similar devices, plus documentation.
The news of these raids in Poland follows on the heels of a Europol led operation to close down an IPTV operation said to be one of the largest in the world. The still-unnamed provider allegedly serviced around 500,000 subscribers from a base in Bulgaria, where a local ISP has come under the spotlight.
A video of the Polish operation, including a suspect under arrest, is available here.