Most suppliers, sellers and resellers in the pirate IPTV space face an interesting conundrum.
On one hand, being unsuccessful dramatically reduces the odds of legal trouble but isn't conducive to getting rich. On the other, a good product coupled with brand awareness can lead to commercial success, at least until that profile attracts the wrong type of attention.
As one of the most recognizable IPTV brands around, PrimeStreams appears to fall into the latter category. In late 2019, the IPTV provider found itself being extorted by a hacker who claimed to have obtained the details of around 121,000 of its subscribers.
To PrimeStreams' credit, customers were immediately informed and somehow a total disaster scenario was avoided. Now, however, PrimeStreams' operators have new adversaries to deal with, ones that will be demanding a lot more than 'just' $70K in bitcoin.
PrimeStreams Sued in the United States
In a lawsuit filed in a Kentucky court this month, US broadcaster DISH Network and streaming platform Sling TV accuse PrimeStreams of infringing their rights on a grand scale via their internet 'rebroadcasting' operation.
The complaint names Daniel Scroggins, Steven Daugherty, and corporate entity Dscroggs Investments LLC as defendants, citing large-scale breaches of the Federal Communications Act and the anti-circumvention provisions of the DMCA.
"Defendants provide an illicit streaming service known as PrimeStreams that allows users to access, without authorization, Plaintiffs' internet communications of television programming that were acquired by circumventing security measures implemented by Plaintiffs," the complaint reads.
DISH and Sling claim that Scroggins, a resident of Burlington, Kentucky, and Daugherty, a resident of Havana, Illinois, are the co-owners of PrimeStreams. It's alleged that they used Dscroggs Investments LLC to process payments related to the PrimeStreams IPTV service.
The PrimeStreams Operation
The plaintiffs allege that Scroggins registered several PrimeStreams domains including primestreams.tv, primestreamstv.com, and primehosting.one. The service was marketed and sold to users via these domains and through social media platforms.
"PrimeStreams was advertised as a subscription-based streaming service providing over 3,000 channels, movies on demand, pay-per-view events, and sports programming, among other content, all for a low monthly fee," the plaintiffs note, adding that at least some of the content offered had been illegally obtained from their subscription services.
"The Programming retransmitted on the PrimeStreams service was received from Plaintiffs' internet communications. Identifiers unique to Plaintiffs' internet communications were detected when viewing the Programming on the PrimeStreams service."
Circumventing DRM to Obtain Content
DISH and Sling say their internet transmissions are secured using Digital Rights Management (DRM) technologies including Google's Widevine DRM, Apple's FairPlay DRM, and Microsoft's PlayReady DRM. Utilizing key-based encryption and decryption processes, these systems are deployed to ensure that only authorized subscribers can access programming and to prevent retransmission by unauthorized parties.
The complaint alleges that the defendants (or someone acting in concert with them) circumvented these protections using "either a differential fault analysis attack where faults are injected into the DRM to disrupt its operation and create pathways to extract the keys necessary to decrypt the Programming, or a man-in-the-middle attack whereby customized software is used to bypass the DRM by intercepting the Programming passing from the DRM's decryption library to the user's viewing platform."
The plaintiffs claim that the illegally obtained content was subsequently made available via the PrimeStreams service on a subscription basis, in breach of their rights.
Direct Sales and Resellers
According to the lawsuit, PrimeStreams subscriptions were sold via the platform's domains for roughly $10 per month, with longer periods and additional connections for multiple viewing devices sold at varying prices.
In addition, PrimeStreams offered so-called 'reseller credits' to authorized resellers of the PrimeStreams service who service their own customers. Prices per credit (one credit for one month of access) varied between $2.50 and $4.00, depending on quantity. Payments for these reseller credits were made by wire transfer and checks to Dscroggs Investments LLC, with the latter being physically mailed to Daugherty.
Some authorized resellers of PrimeStreams allegedly sold the service under their own brands, including Firesticksteve or FSS, Bing TV, and Better Than Cable TV.
PrimeStreams Ignored Warning
The complaint states that around September 24, 2021, the defendants were notified that their service violates federal laws and told to cease and desist. It appears that the warning was either ignored or rejected, and that's what led to this lawsuit. The decision could prove costly.
In addition to a permanent injunction to shut PrimeStreams down and prevent it from reappearing, the plaintiffs are requesting an order that will allow them to "take possession of and destroy" any item or technology that was used to violate the Federal Communications Act or the anti-circumvention provisions of the DMCA.
The order should also include a transfer of all PrimeStreams domains to the plaintiffs along with "all hard copy and electronic records regarding persons involved in the PrimeStreams service."
One of the domains sought by the plaintiffs currently shows a message dated May 13, two days after the lawsuit was filed.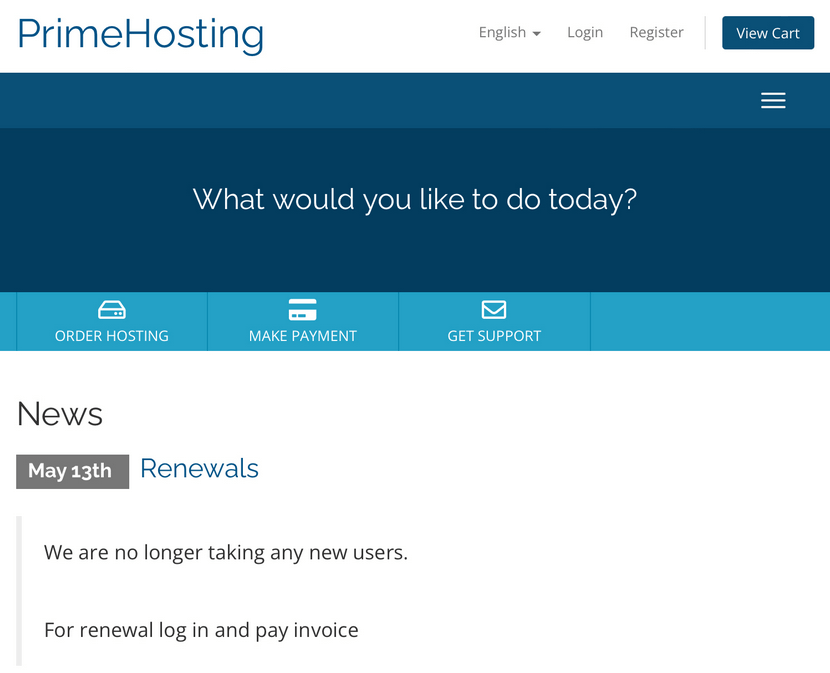 Pinpointing an exact damages figure is impossible at this stage given the available information but when combining the alleged breaches of the FCA and DMCA, it could easily be tens of millions of dollars.
Just recently, DISH asked a court to sign off an award of more than half a billion dollars for what appeared to be a lower level of infringement.
DISH and Sling's complaint against PrimeStreams can be found here (pdf)