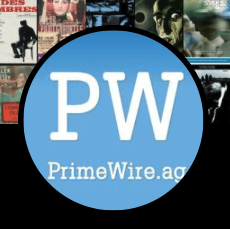 The Hollywood studios of the Motion Picture Association are certainly not averse to filing copyright infringement lawsuits against pirate sites. Sometimes, however, it takes them a long time to do so.
PrimeWire, a site that has been around in various forms for at least eight years, had to wait until last December to find out it had been targeted by Paramount, Universal, Warner, Columbia, Disney and Netflix in the United States.
But with the ante upped, would the site cave under pressure or come out fighting?
PrimeWire Chooses Not To Fight Conventionally
Perhaps the most obvious response to a lawsuit is for the defendant to file an answer to the complaint. That hasn't happened yet and may never, so the legal process in the United States is probably set to become a one-sided affair. The studios don't appear to know the identity of the PrimeWire operators so while winning damages is likely, recovering them won't be as straightforward.
However, there are other issues at play too, such as the preliminary injunction handed down by a California court this week. That requires domain name registrars and registries API Gmbh, Gandi SAS, Namecheap, Inc., Nic AG, SWITCH, and Afilias, Inc., to freeze and disable three active PrimeWire domains.
That is likely to happen very soon and it is against these measures PrimeWire is preparing to fight.
Is PrimeWire Down?
At the time of writing PrimeWire is still accessible via primewire.li, primewire.ag and primewire.vc but that is likely to change very soon when the registries and registrars take action. The disabling of those domains will mean that site access will be limited but it appears that news has already reached PrimeWire.
A few hours ago a new banner appeared on the streaming portal. In an apparent effort not to spook users it makes no mention of the live lawsuit. Instead, it publicizes a new domain that will provide information to counter any domain issues.
PrimeWireStatus Serves Two Purposes
The primewirestatus.org domain was registered on January 11, 2022, and claims it has nothing to do with the main PrimeWire operation.
"PrimeWireStatus.org is an independently run informational website that is not affiliated with any other website or service. PrimeWireStatus.org does not promote or provide any hyperlinks to any other website. The sole purpose of PrimeWireStatus.org is to relay signed PGP messages that have been sent to us," the site's footer reads.
The only signed PGP message published thus far details the three current official domains, all of which are at risk of being disabled without notice. The primary purpose of the messages, therefore, is to provide updates on where new and official domains can be found.
Second, since domain seizures tend to encourage the launch of copycat sites to fill the perceived gap, these signed messages can also be used to find out whether any new domains that subsequently appear are actually official, as the image below shows.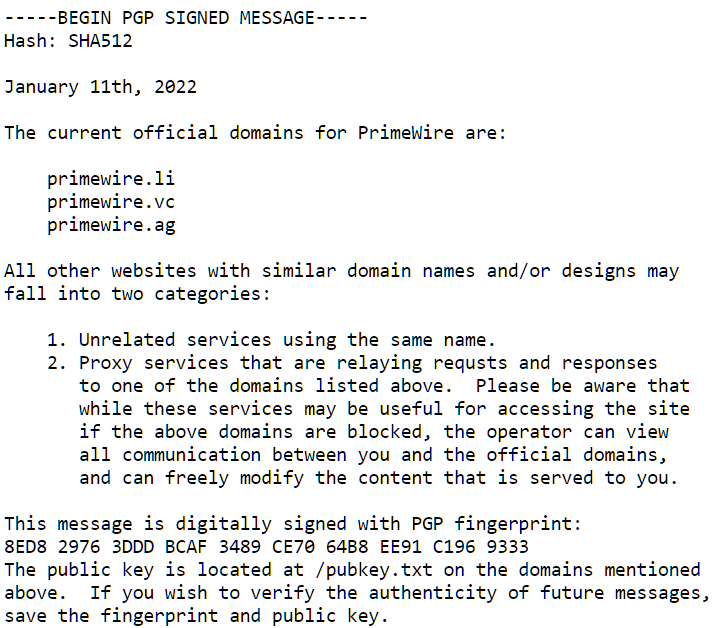 Checking the referenced URL on primewire.vc does indeed return the promised public key, showing that the domain is official and not a third-party clone or proxy.
Preliminary Injunction Served
Court records show that PrimeWire seems to be violating the preliminary injunction. The platform was served with the necessary documentation on January 10, 2022, via three email addresses – one on the primewire.li domain, one on primewire.ag, and another on a ProtonMail address. The court was notified of service to PrimeWire on the same date. Searches on specific movies in the plaintiffs' list of 138 infringed copyrighted works are still in PrimeWire's indexes.
There's no indication thus far that the registries and registrars have received the injunction but the Motion Picture Association certainly won't be hanging around. What additional measures the studios will seek to counter PrimeWire's apparent countermeasures remain to be seen but it's not beyond realms of possibility that they will return to court to seek further action, including against additional new domains.
Update January 19, 2022: Primewire.ag has been seized with registrar Gandi SAS reporting the following status: clientHold, clientTransferProhibited, clientUpdateProhibited