In August 2007, Dutch anti-piracy outfit BREIN caused the closure of six torrent sites operating from local host LeaseWeb. One of the sites, the popular AradiTracker, was soon back online.
One year later and it appeared that history was repeating itself when a notice appeared on the site's homepage warning that the tracker had been shut down by "the powers that be." Unlike the previous year's closure, this time it was made clear that the site would not return.
AradiTracker had operated since May 2005, gathering a few thousand members in its first months of operations up to a peak of around 37,000, but it was the 2008 raids carried out by police and the Federation Against Copyright Theft that finally ended its operations.
In action against the owner of AradiTracker, Hugh Reid of Northern Ireland, police seized all computer related equipment from the 70-year-old's home and place of work. Three weeks later police and Trading Standards officers raided a second person, Reid's son-in-law Marcus Lewis, at his home in North Wales.
The AradiTracker shutdown notice displayed in 2008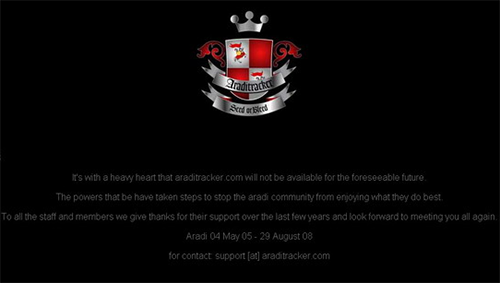 Five years later in 2013, both Reid and Lewis were pleading guilty to distributing items protected by copyright law.
The prosecution, who framed AradiTracker's activities as a "movie theft" operation, said that the site received so much money that PayPal refused to process any more transactions. The cash coming in, donations given by the site's members, was described in court as the users "buying" counterfeit content.
Judge Philpott, who said the behavior of the men was "nothing less than theft", noted that people suffer due to copyright infringement.
"There are people who work here locally who work to make films locally in this jurisdiction and in others as well," the judge said. "There are also the people who work in cinemas, the people who distribute DVDs who are all affected by copyright infringements."
Noting that Lewis had a clean record, the judge at Belfast Crown Court handed both men two year prison sentences, suspended for two years.
According to a local report, that money – said to be £33,000 – will become the subject of a confiscation hearing next month. Reid's lawyer said his client "had the means" to settle the matter in full.