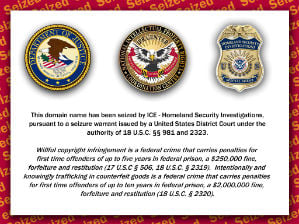 In 2010, U.S. authorities launched Operation in Our Sites, an anti-piracy campaign aimed at pushing copyright-infringing sites offline.
In its early days several high-profile sites including the infamous Ninjavideo were taken down but over time authorities focused more on sites connected to the supply of counterfeit physical goods.
In 2014, however, two music-focused piracy sites were on the radar of Immigration and Customs Enforcement (ICE) investigators. RockDizFile.com and RockDizMusic.com were two interconnected operations and in October 2014 disappeared from the Internet to be replaced by the now famous ICE domain seizure banner.
RockDizMusic was an index for popular new music while RockDizFile was a file-storage site acting as a storage facility for its similarly named counterpart. Both were run by Rocky P. Ouprasith of Charlotte, N.C., who was arrested following the execution of a Homeland Security Investigations search warrant.
While the sites had a much lower profile than many of the world's leading torrent indexes, in 2013 the RIAA branded RockDizFile "as the second largest online file-sharing site in the reproduction and distribution of infringing copies of copyrighted music in the United States."
Subsequent court documents placed a value of $6 million on the amount of content pirated by the site. Ouprasith entered a guilty plea and last November was sentenced to serve a total of 36 months in prison with two years supervised release. The 23-year-old was also ordered to forfeit almost $51,000 and pay more than $45,000 in restitution.
This week, almost six months after the successful prosecution, the RIAA expressed gratitude to the U.S. law enforcement officers involved in the operation. During a special ceremony L. Carlos Linares, vice president of Anti-Piracy Legal Affairs at the RIAA, thanked ICE Homeland Security Investigations (HSI) agents stationed in the United States, Canada, France and the Netherlands for bringing Ouprasith's sites to their knees.
"On behalf of the major U.S. record labels, we are grateful for the excellent work of the ICE agents involved in this historic case," said RIAA Chairman & CEO Cary Sherman.
"Music creators cannot make a living doing what they love when sites like RockDizMusic and RockDizFile are allowed to permeate the marketplace with illegal music, creating a damaging domino effect throughout our entire economy.
"This agency has repeatedly shown that it will work vigilantly to protect consumers from illicit sites and preserve one of America's greatest exports – the intellectual property of our creative industries."
ICE-HSI Executive Associate Director Peter Edge said that cooperation with groups such as the RIAA is a vital aspect of anti-piracy operations.
"Collaboration with industry is absolutely critical to conducting effective intellectual property enforcement. The dedication from agents involved in this case is a testimony to the importance we place on defending the U.S. economy, protecting consumers and cracking down on criminal organizations engaged in counterfeiting and other forms of IP theft," Edge said.
According to ICE, the RIAA initially referred the case to the Department of Justice's Computer Crimes and Intellectual Property Section (CCIPS) before it was transferred to Homeland Security Investigations offices in Norfolk, Virginia.
While music piracy remains as rampant as ever, this prosecution sent a message to would-be pirates in the United States that the highest levels of law enforcement are at the RIAA's disposal, should they be required. That being said, most large sites are operated from outside U.S. borders.