Human beings have a tendency to want things they can't have. A modest interest in a particular item or activity can inexplicably soar when it's recognized as rare or unavailable. When strictly forbidden, even regular fruit can prove irresistible.
Spotify offers 100 million tracks to hear right now, including the vast majority of the greatest pieces of music ever written. Yet for some, the lure of an unreleased track can outweigh every single one of them; unattainable, forbidden and rare is a potent mix and may explain why pirates are paying silly money for leaked, pirated music.
Dozens of Avicii Leaks
When producer Tim Bergling passed away in 2018, the prospect of never hearing a new Avicii track was suddenly very real. Two albums and various tracks were eventually released, but then – PAB happened.
In 2022 the Public Avicii Buy Server (PAB) channel on Discord became a hot location for unreleased Avicii tracks. Faced with having to pay for them, fans worked to 'groupbuy' a long list of Avicii tracks including 'Let's Roll' and 'Lethal Drug V2' which featured Chris Martin & SZA.
Update: DaMonkaS, the co-owner of the Avicii forum on /r/avicii, informs TF that a more informative description for 'Let's Roll' would be the 'Levels' demo featuring Mike Posner's vocals. More information here
Sources Unknown But Some Files Were Apparently Stolen
How the music was obtained isn't clear; some believed the PAB seller bought the tracks and then sold them to fellow Avicii fans at cost price. Others spoke of hacked accounts and big profits. Late 2022, after another 'PAB' release ('Island') appeared online, a Reddit user jumped in to comment
"Hey guys! My name is Jonas Wallin and my alias is The High," the music producer posted on Reddit.
"I wrote Island and it's coming out soon in fact. The leaked vocals are mine, my vocal stems. It's the same with Loving Feeling. I would recommend you to not pay someone for these files since they were stolen from me. Thanks."
Update: More information courtesy of DaMonkaS: "The files all came from the seller / hacker on unreleasedsounds. The seller himself was in the server too for a long period and he went by the name Rino. Rino had showed several times in the PAB server chat that he had access to multiple of Avicii's past collaborators' emails which is one way he got the songs from through old email attachments and various age old cloud storage links. Rino also posted a few emails Tim Bergling had with his collaborators, most notably being a leaked track list from a cancelled 2016 album.
RIAA Investigates Unreleased Sounds
According to various sources, the track made its way to PAB via a private leak site called Unreleased Sounds. It's unclear whether the RIAA's member labels have any interests in the dozens of Avicii tracks leaked so far, but they do want to know who runs the 15/16 month-old site.
Citing three previously leaked tracks – 'Hot Saturn' by Lil Nas X, 'Rockstar Status' by Juice WRLD, and PnB Rock's 'I Know They Mad' — on March 13 the RIAA filed an application for a DMCA subpoena at a district court in Columbia, Washington.
"The purpose for which this subpoena is sought is to obtain the identities of the individuals assigned to these websites who have reproduced and have offered for distribution our members' copyrighted sound recordings without their authorization," the application reads.
In a letter to Cloudflare, the service targeted in the subpoena, the RIAA requests several pieces of information.
"As is stated in the attached subpoena, you are required to disclose to the RIAA information sufficient to identify the infringers. This would include the individuals' names, physical addresses, IP addresses, telephone numbers, e-mail addresses, payment information, account updates and account history, as available."
The DMCA subpoena, which also references two additional platforms (NoTube.net and Aonode.com), has now been issued so it's likely Cloudflare will hand over the information in the coming days, if it hasn't already.
Unreleased Sounds
It's not difficult to find reports of unreleased tracks being leaked by Unreleased Sounds. Operating from at least two domains – unreleasedsounds.gg and unreleased.gg – the platform became a members-only service last October, meaning that today's prospective members need an invite code to sign up.
"Our website is now a closed/invite only marketplace," the site's operator wrote.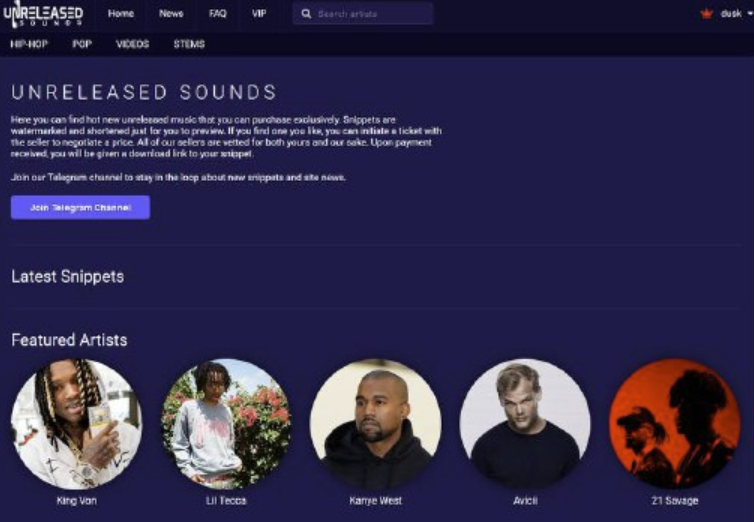 The screenshot above reveals Kanye West and Avicii as featured artists on Unreleased Sounds. While that doesn't provide hard evidence that the platform was the source of previous Avicii leaks, comments from the site's operator suggest that if fans have the money, more Avicii music is indeed available.
The DMCA subpoena also covers Aonode.com and NoTube.net, a stream-ripping platform with tens of millions of monthly visits.
DMCA Subpoenas and Links to Infringing Content
The RIAA previously sent DMCA takedown notices to Cloudflare asking for the allegedly infringing content to be removed. How Cloudflare responded to those notices is unclear but in one case, it may have been difficult to know exactly what to take down.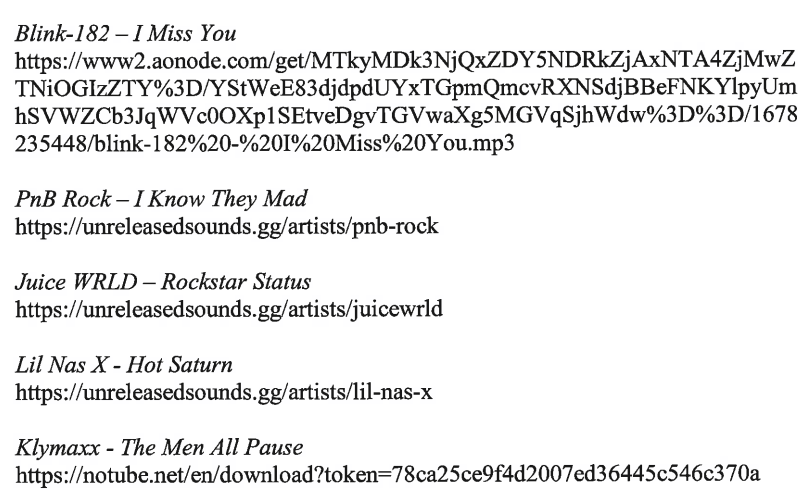 Unlike the URLs for the other sites, the three Unreleased Sounds links appear to be artist categories rather than links to specific content. Given the overall nature of the platform, that's not particularly unreasonable, but it does raise the question of why the direct links were left out.
One possibility is that the links were external and carried the domain of a far less interesting hosting site. Another is that artist page URLs are much easier to guess from outside once the general format is known. But whatever the reason, RIAA subpoenas are relatively rare and being featured in one rarely ends well.
The RIAA's DMCA subpoena application can be found here (1,2,3,4, pdf)