Sometime in 2004, a new site appeared hoping to provide a better service to fans of the growing video emulation scene. Acting as both a source and index for ROM and losslessly compressed CHD files (for the MAME emulator), Pleasuredome made emulation resources more accessible, supported by a growing community.
Right off the bat, Pleasuredome was billed as the home of the MameFTPGroup, a reference to the most popular emulator of the time and FTP, the-then favored format for file transfers. Pleasuredome listed plenty of FTP resources on its platform from around the world, from the United States and Canada through to Europe and Australia. The chart below shows how bandwidth-poor these servers were.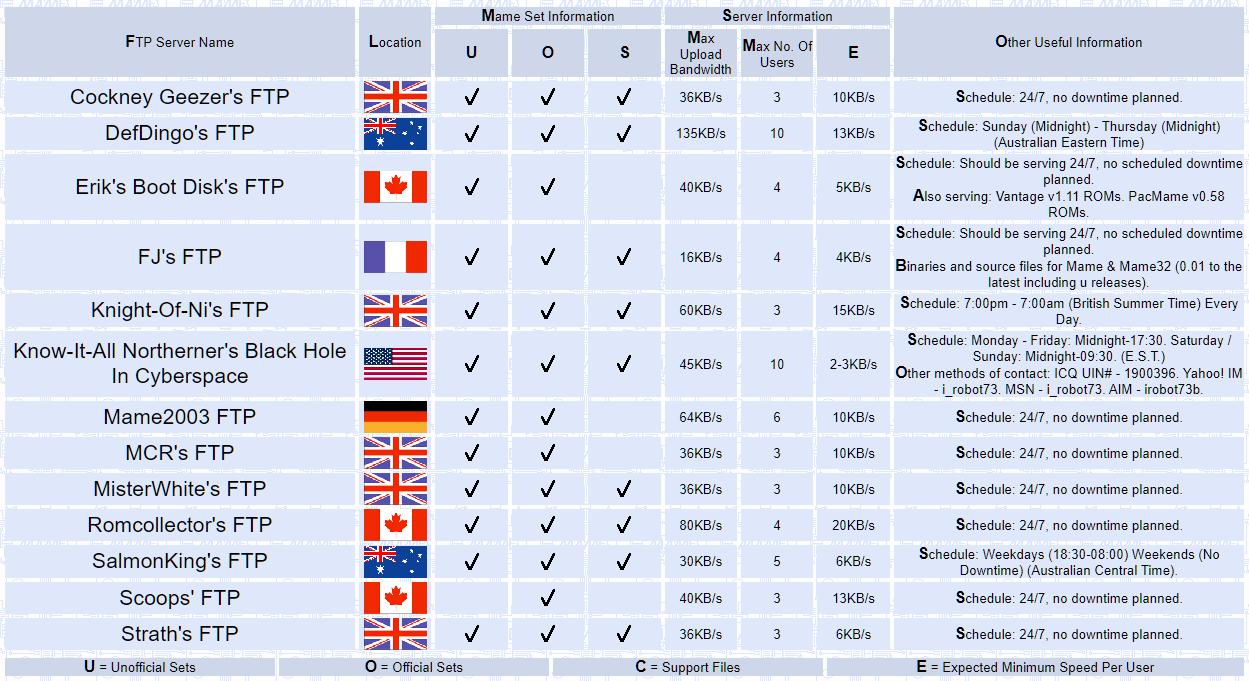 In order to alleviate the pressure on these servers, users of Pleasuredome were initially encouraged to head off into the real world to obtain content on physical media to get started.
Full sets – which could take many weeks to download from the site – could be obtained from so-called 'burners', volunteers who were willing to give up their time and electricity to burn their collections of ROM binaries onto CD-ROMs. This service was free of charge for the people that requested them.
More than 15 years ago the internet was clearly a different place bandwidth-wise and copyright issues connected to ROMs were almost unheard of too. Nevertheless, even in its early days Pleasuredome warned users that since it didn't know its users, it was unable to assess any user's legal rights to use downloaded ROMs. However, the site felt it could reassure people that (unlike today) copyright owners didn't care about emulation.
"[T]he original copyright owners aren't usually too bothered about the free distribution of these ROMs because they have long since stopped making them any money, burners have supplied ROM sets to software houses and arcade manufacturers in the past," a May 2004 statement noted.
"For privacy reasons we will not disclose these companies, but needless to say, at least two of them are playing a big part in the software industry now, and one of them is an arcade manufacturer."
BitTorrent Made Itself Useful
In an effort to reduce considerable bandwidth costs that couldn't be offloaded to the 'burning' community, at some point Pleasuredome implemented a BitTorrent tracker, later preferring the Gazelle platform. This meant that content could be shared among site members using their bandwidth, rather than servers with a centralized bill. When considering a full Mameset with all CHDs can weigh in at hundreds of gigabytes, the savings would've been massive.
Pleasuredome implemented strict sharing rules and anyone not playing ball found themselves excluded from the site. At some point, however, the site itself had to change the way it operated by excluding some content too. The tracker had a policy of only offering ROMs of games that weren't officially available to buy so when gaming giants including Nintendo began filing lawsuits against ROM portals, Pleasuredome began banning its games from the site.
Pleasuredome Shuts Down
After more than 15 years online (and more a limited period before that under a different domain), Pleasuredome threw in the towel this weekend. Sometime on Sunday the site went dark before displaying a brief "Game Over" shutdown message at Pleasuredome.org.uk, the torrent site's former domain. No warning was given and no explanation was offered for the closure.
However, the site did provide a link to a Reddit post which also contains a chatbox. Someone claiming to be from the site's moderation team provided a little more information on the site, stating that "all good things must come to an end."
"We decided PD had come to the end, it's that simple, no drama, no issues. Simply ending the tracker, it was good while it lasted. It's dead for good," the poster advised.
"Emulation will continue… your hobby will go on. PD has transformed but the scene is still as active and alive as ever."
When a site goes down, talk automatically switches to whether there might be some kind of resurrection. Reading between the lines that isn't being entirely ruled out but in respect of Pleasuredome at least, the end has been reached.
"There is no chance the site will return in its old form. We had a good run and we decided it was the best time to end. To quit while we are ahead," a statement reads.
"There is no meaningful legal way transferring the site can be done. PD was a great site and the time is right for it to come to a meaningful close. Believe me, we will miss the community too, but it was the right time for all good things to come to an end."
But while the site has now slipped away to join thousands of others in the file-sharing graveyard, the team has provided a link to this page, which could prove useful to some.