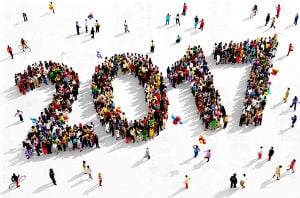 Lists, list, lists, it's that time of the year again. In December many prominent search engines publish their overviews of most used search terms.
On Google, Hurricane Irma was the most searched for term of the year, globally. With "It" and "Stranger Things" ending up as the most sought after movie and TV show respectively.
But what's happening on torrent search engines? With billions of searches every year, it's worth taking a look at the most-entered keywords on the dominant file-sharing network.
With data from one of the most visited torrent indexes, we compiled a list of 50 popular terms, to give an indication.
2017's number one query is "Game of Thrones," which was entered in several variations, often paired with the episode number. While it's no surprise, considering the show's popularity, as a TV-show it's somewhat of an outlier.
The top 50 is mostly made up of movie titles. "Spider Man: Homecoming" ended up in the second spot, followed by "Baby Driver" and "War for the Planet of the Apes."
The only non-title entry in the top ten is "Telugu 2017," which shows how popular BitTorrent is in India. On most torrent sites nowadays, a large chunk of all visitors come from the Asian country.
Torrent sites are predominantly used to download video, which is evident from the list. There are no references to music at all, and "CracksNow" appears to be the only software related search.
Below is the full list of the Top 50 most-entered search queries based on a data sample provided by one of the most popular torrent sites on the Internet. Searches pointing to the same title have been combined.
—-
Note that searches are not the same as download activity. The former are, in theory, easier to manipulate by outsiders.
What Pirates Searched for in 2017

rank
search
torrentfreak.com
1.
Game of Thrones
2.
Spider Man Homecoming
3.
Baby Driver
4.
War for the Planet of the Apes
5.
Star Trek Discovery
6.
Telugu 2017
7.
Transformers the last knight
8.
Pirates of the Caribbean Dead Men Tell No Tales
9.
Thor Ragnarok
10
Alien Covenant
11.
Wonder Woman
12.
The Mummy
13.
Atomic Blonde
14.
Malayalam 2017
15.
Riverdale
16.
Kingsman The Golden Circle
17.
Designated Survivor
18.
2017 Movies
19.
Half Girlfriend
20.
Dunkirk
21.
The Fate of the Furious
22.
The Orville
23.
Baywatch
24.
Blade Runner 2049
25.
Tigole
26.
Golmaal again
27.
Valerian and the City of a Thousand Planets
28.
Midnight Texas
29.
King Arthur Legend of the Sword
30.
Tamil 2017
31.
Justice League
32.
Tubelight
33.
Annabelle Creation
34.
Geostorm
35.
The Handmaids Tale
36.
Young Sheldon
37.
Toilet Ek Prem Katha
38.
Logan lucky
39.
13 reasons why
40.
Baadshaho
41.
Jagga Jasoos
42.
CracksNow
43.
Dangal
44.
The Lost City of Z
45.
Suits
46.
Power Rangers
47.
The Big Bang Theory
48.
The Hitman's Bodyguard
49
Secret Superstar
50.
Jab Harry Met Sejal