Millennium Films is continuing its quest to identify and shut down pirate sites and services.
In recent weeks the company managed to take the widely popular app CotoMovies offline and the popular torrent site MKVCage also disappeared following legal pressure.
To identify the operators of these sites and apps the movie outfit, alongside several of its daughter companies, uses a relatively simple weapon. Through their attorney, they request DMCA subpoenas, ordering hosts, domain registries, and other intermediaries to share personal information of their targets.
While foreign companies may not always be responsive to such requests, US-based corporations usually are.
The most recent effort from Millennium Films is particularly interesting in this regard. The company requested a subpoena to compel the .To registry to hand over information connected to the domains of streaming sites FMovies.to, Yesmovies.to and Cmovieshd.to, as well as torrent site iBit.to.
According to information submitted to the court, the sites are linked to pirated copies of the film "London Has Fallen."
While .To is the top-level domain of the island kingdom of Tonga, the Tonic registry operates through Tonic Domains Corp., which clearly has a U.S. presence with a California address. As such, it will generally fall under the jurisdiction of US courts.
As is usually the case with DMCA subpoenas, this request was swiftly approved by a court clerk without oversight from a judge. As such, the registry is required to hand over emails, phone numbers, payment details, and other information it has on the domain owners.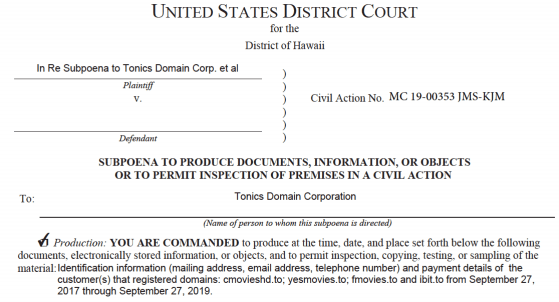 Interestingly, the subpoena request contains several errors. It repeatedly refers to Cloudflare, for example. This is likely because it was copied from a previous submission. In addition, it addresses "Tonics Domain" corp, instead of "Tonic Domains," but the court clerk approved it nonetheless.
Responding to our inquiry, the Tonic registry said that it will, and has always complied with valid US subpoenas. This means that it will respond to this request as well, unless it sees the misspelled name as problematic.
The question remains what Millennium Films can do with the information. While some pirate sites and services are responsive to legal pressure, not all are.
FMovies, for example, which is the largest site targeted in this instance, didn't flinch when it was sued by ABS-CBN three years ago. The site operators simply didn't respond to the complaint, resulting in a default judgment of $210,000 in damages.
The same judgment, issued by a federal court in Florida, also came with an injunction allowing ABS-CBN to take over the FMovies.to domain name, but that never happened.
—
A copy of the subpoena issued by the US District Court for the District of Hawaii is available here (pdf).