For many seasoned BitTorrent users, 1337x.to is a familiar name. The site has been around for more than a decade and is generally known for its lively community.
Over the years 1337x has steadily climbed through the ranks. It is currently the third most-visited torrent site, trailing only behind The Pirate Bay and YTS.mx.
1337x Bans YTS Uploads
While there is generally not much competition between public torrent sites, 1337x's staff has taken a big decision that directly impacts YTS. Without warning, the site decided to ban all YTS torrents, including the site's upload bot.
The YTS bot is connected to YTS.mx and adds hundreds of new movie torrents every week. While many torrent users appreciate the constant stream of fresh content, the reputation of YTS has been severely damaged due to its operator sharing user details with movie studios.
These private details, including IP and email addresses, were taken from the YTS database which by itself has nothing to do with 1337x. However, the 1337x staff characterized this as a 'snitch' move and no longer wants to be associated with anything related to its rival.
"In light of the admin/sysop/owner giving up user data, I put banning them to a staff vote which returned a unanimous decision," an 1337x admin informs TorrentFreak.
Movie Companies Sued YTS Users
YTS data-sharing practices have already resulted in several lawsuits against YTS users after the site itself previously signed a settlement agreement with movie studios.
Initially, it was not 100% certain that the data was being willingly shared but an article we published this week left no doubt. That prompted 1337x to take action, a decision that wasn't taken lightly.
"We had considered banning them a few months back when it was first made public that they were potentially compromised and TF published several articles about them being sued but they magically continued to operate. Your latest article about them giving up user data was the straw that broke the camel's back."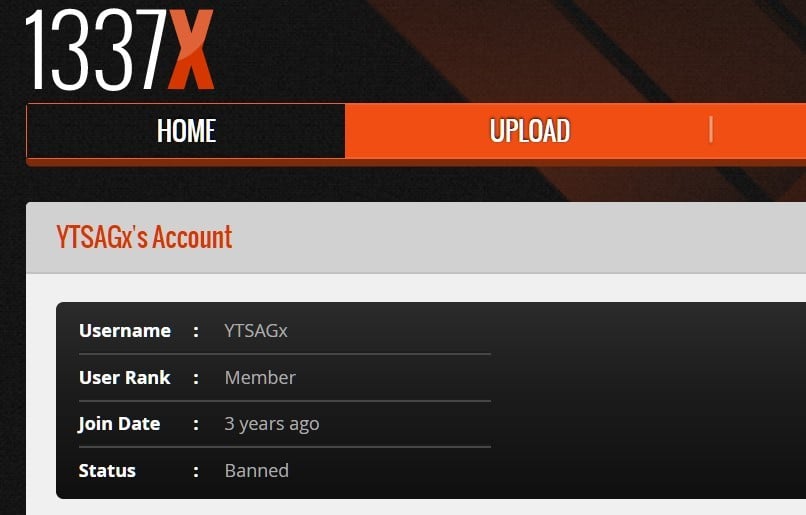 The ban doesn't affect YTS.mx directly, as they are still able to publish torrents on their own site. However, the releases on other sites act as a promotional tool as well, so in the long run, it can certainly have an impact.
EZTV Uploads Are Banned Too
While the initial ban only affected 'YTS' uploads and the 'YTSAGx' bot, it directly resulted in the ban of another popular account as well; EZTV.
EZTV.io hijacked the original EZTV group years ago and in 2015 started promoting the new YTS site after the official YTS group shut down. It wasn't entirely clear if the two were connected but when the EZTV bot started uploading YTS releases to 1337x yesterday the site's staff knew enough.
"After banning the YTS bot account the EZTV bot account started uploading YTS torrents. This is the confirmation we needed that EZTV and YTS are linked. We always suspected it. We know YTS and EZTV are not the original groups/sites," the 1337x admin tells us.
"We allowed them to upload on 1337x because people liked their small encodes and apart from stealing the YTS name they did not seem to be doing anything malicious. We never fully trusted them and that's the reason that neither account was ever promoted to VIP."
TorrentFreak reached out to YTS for a comment on the ban, but we have yet to hear back.
More Bans Coming?
People who search for YTS or EZTV on 1337x won't see any new torrents and that's not going to change anytime soon. At the time of writing, all older uploads from these accounts remain available.
The 1337x team are also discussing their concerns with other torrent site admins, who may follow the site's decision.
"I suspect more bans to follow shortly," the 1337x admin says, noting that most people he spoke with agree on the matter.
Update: Following 1337x's decision, TorrentGalaxy (TGx) and Glotorrents have banned YTS releases as well.