Founded in 2012, MagnetDL offered a clean and easy-to-use torrent search portal, which gained a substantial userbase over the years.
The site relied on magnet links instead of regular torrent files, as the name suggests, and was most popular in the UK where it was one of the few popular torrent sites not blocked by ISPs.
MagnetDL flew mostly under the radar but hundreds of thousands of people have it marked as their favorite search engine. Many of these were taken by surprise yesterday when the site suddenly announced that it had closed shop.
"MagnetDL has closed. It has been a great seven years and it's sad to have it come to an end. Thanks to everyone who has visited over the years especially our regular visitors," a message on the site reads.
TorrentFreak reached out to the operator to get more details on the reason for this decision, but at the time of writing, we have yet to hear back. This means that we can only guess about the exact reason for the shutdown.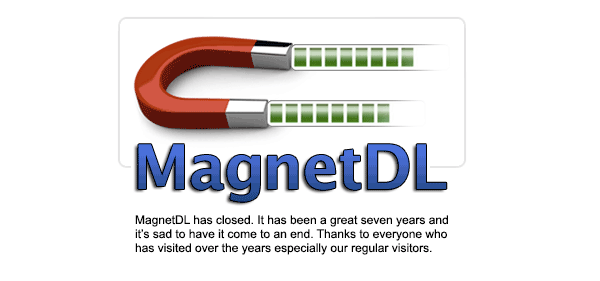 We are not aware of any legal issues being faced by the site. It could be that the operator simply lost the motivation to keep the site going. Perhaps in combination with a loss in revenue, which other torrent sites have previously cited as a reason to throw in the towel.
The torrent site hadn't changed much since it was first launched seven years ago. The informative 'help' section, which was one of the most elaborate we'd ever seen at a public torrent site, expanded a bit, but the homepage still looked exactly the same a few days ago.
The magnet search engine never made it into the top 10 of most popular torrent sites, but it came very close. In some regions, such as the UK, it definitely had a solid spot among the most-visited 'pirate' portals.
MagnetDL didn't allow users to upload files and grabbed links from other torrent sites, which means that no content has been lost. However, based on comments posts on various social media sites, the site itself will be dearly missed.
Update: After we published our article MagnetDL changed the message on their homepage which indicates that the site will return in the future. We will keep an eye on the developments.