To protect themselves against excessive monitoring, security exploits and ISP throttling, some BitTorrent users turn to anonymizing services such as VPNs and proxies.
Over the past months interest in these privacy protection services has surged. However, for some less technically skilled people all the talk about privacy settings and IP-leaks may prove to be too much.
The latter group is now catered for by TrafficPrivacy, a new and fully anonymous BitTorrent client that launched this week. Feature wise the client is relatively limited, but unlike others it has a fully configured and dummy proof anonymity option built in. Simply enter your login credentials and everything just works.
"TrafficPrivacy's mission is to provide users with real 100% protection and anonymity without additional settings, which can be quite difficult for non tech savvy users. That's why we include protection into a tiny BitTorrent client," TrafficPrivacy's Alex told TorrentFreak.
As with other anonymity services a long term subscription to TrafficPrivacy doesn't come free. The service is currently priced at $6.95 per month, but there is a 7-day free trial available for people who want to give it a spin before committing to it longer term.
Contrary to VPNs or BitTorrent proxies, users will have to swap their current BitTorrent client for the TrafficPrivacy software. This is a deliberate choice from the makers, as it's the only way to guarantee that all the privacy settings are properly configured.
With Vuze, uTorrent and other clients people often forget to use the right settings or get confused by the terminology, which can result in their true IP-address leaking out. The new client's goal is to avoid this.
"The target audience for TrafficPrivacy are users who put a lot of value on their safety and anonymity, but do not want to configure all the complicated settings. We want to keep everything as simple as possible and let users feel safe without tinkering with various privacy options in current BitTorrent clients," Alex says.
TrafficPrivacy BitTorrent Client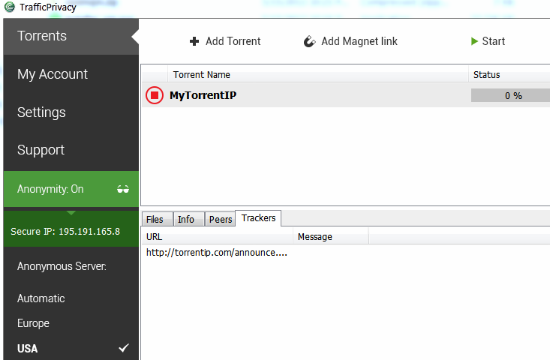 One thing to keep in mind is that TrafficPrivacy only offers anonymous BitTorrent transfers. Other traffic, such as that generated by a web browser, will be linked to the user's regular IP-address. Users can see if anonymity is turned on directly from the client, but it's always wise to verify it through an external service that checks the BitTorrent IP.
To guarantee the user's privacy the company says it doesn't keep any connection logs that can be traced back to individual customers. Also, if the TrafficPrivacy servers happen to go down the client will stop working entirely.
"If TrafficPrivacy server goes down, all downloads stop and it doesn't leak the real IP-address," Alex informs TorrentFreak.
The TrafficPrivacy team are no newcomers to the security scene. The new client was developed as part of the existing TorrentPrivacy proxy/VPN service, but when the new client was finished they decided to turn in into a completely new product and a brand of its own.
While TrafficPrivacy might not appeal to all BitTorrent users, its ease of use and simplicity will probably be welcomed by those who are less technically skilled.