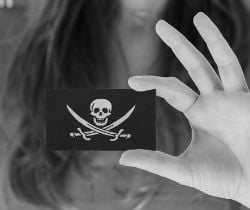 When it comes to the heated piracy debate the opinions of Hollywood are usually spoken in clear terms, with all the big companies singing from the same sheet. Piracy is universally bad, the studios chant in unison, a line from which few dare to deviate.
However, when someone in Hollywood does break ranks, it's always worth listening to what they have to say.
Just recently movie director Lexi Alexander has been shaking things up with comments not only supporting jailed Pirate Bay founder Peter Sunde, but also those that blame studio bosses for leaks of movies such as The Expendables 3.
Today Alexander has delivered perhaps her most controversial revelation yet, news which suggests that direct leverage of piracy helped a major network get its own streaming services off the ground with much reduced costs.
The report comes from a contact of Alexander's working in the industry. She's keeping his identity a secret so as not to jeopardize his career, but his revelations are quite an eye opener.
"Many years ago, I was employed at one of the Major Networks in an R&D capacity. What our team was tasked with was figuring out how to build streaming networks. Building a parallel to the broadcast networks where a program could be digitized and then never go back to the analog world again," he told Alexander.
"[W]hen you're working at the level of a network, there's too much to be done by hand, and you have to design systems. For digitizing. Transcoding. Asset management. Dealing with different audio mixes. Subtitles. Error correction. Multi-bit rate streaming for a wide variety of clients. Evolving formats and containers."
Clearly the job of transitioning to the digital domain presented significant challenges that needed to be overcome. However, R&D workers needed experience to solve these problems and according to the insider that was obtained in a most unorthodox fashion.
"We were all pirates. I'm not saying we leaked material to the internet – nobody was that crazy. But everyone illegally downloaded media. We traded tips on our setups, best practices, the most efficient tools and workflows. Everyone was downloading illegally. The VPs. The head of content security. EVERYONE."
Of course, any major expenditure such as creating new networks would have to be passed off by the powers that be, something that could take years. But while those holding the purse-strings were deep in thought, time wasn't being wasted down in R&D. In the pirate world, experiments were taking place.
"We honed our skills, our design ideas, our workflow concepts in illegal waters. So when we finally got the greenlight to build something, we knew what we were doing. We were fluent," the insider said.
This unofficial training led to huge savings for the network, slashing R&D costs while bringing products more quickly to market. Alexander's contact notes that these savings as a result of piracy are a far cry from the losses Hollywood prefers to talk about.
"So when I look at all the complaints about piracy costing corporations billions of dollars, all I can think about is the billions of free R&D the corporations have received from the pirate economy. Of all the money and resources we were not given by our bosses, which led us to solve problems with the tools that were available to us," he concludes.
Finally, it appears that Lexi Alexander isn't done yet. She's now inviting others to come forward with their own anonymous "anti-piracy hypocrisy stories". Better get the popcorn, this could get interesting.