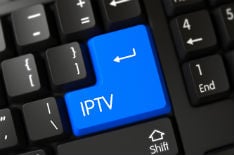 In the past, those operating unlicensed torrent sites or streaming services in the UK needed to be aware of breaching civil copyright law, action that could result in a damages award but not a custodial sentence. Times have changed.
These days civil copyright actions have almost completely disappeared and it's now exponentially more likely that offenders will be pursued in criminal cases, ones that have the potential to put them behind bars. That's also the case following a new arrest carried out by police in the UK.
West Mercia Police Make New Arrest
In an announcement Wednesday, West Mercia Police said they had arrested a 56-year-old man in the Shropshire town of Shrewsbury for offenses connected to the operation of an illegal streaming service offering premium TV channels and other copyrighted content.
The action was taken following an investigation carried out in partnership with the Federation Against Copyright Theft (FACT). The anti-piracy company informs TorrentFreak that since there is a live investigation, the name of the service cannot be named. However, West Mercia Police has provided additional details which put a little more meat on the bones.
Streams Disabled, Message Displayed to Users
It's not clear when the warrant was executed but police say they were able to access and then disrupt the streaming service and disable the illegal streams. They also placed on an on-screen message viewable by users of the service stating that the content they were watching is suspected to be unlawful.
This tactic of warning users directly has been deployed before, including when Norfolk and Suffolk police targeted the Global / Global Entertainment (GE Hosting) IPTV service last summer.
"This operation is the unit's first arrest in relation to online streaming and sends out a strong message that we are homing in on those who knowingly commit or facilitate online copyright infringement," says Sergeant Ian Osborne from West Mercia's Cyber Crime Unit.
"Not only is there an enormous loss to the entertainment industry with this particular operation but it is also unfair that millions of people work hard to afford their subscription-only TV services while others cheat the system."
Items Seized During the Raid (Image: West Mercia Police)
Suspect Arrested For Multiple Offenses
While copyright infringement offenses appear to underpin the alleged crimes of the suspect, West Mercia Police say the man was arrested for Money Laundering (s327 Proceeds of Crime Act 2002) and encouraging or assisting in the commission of the offense of obtaining services dishonestly (s44 Serious Crime Act 2007 and s11 Fraud act 2006).
Breaking this down, section 11 of the Fraud Act makes it an offense for any person to obtain services for which payment is required, with the intent to avoid payment. The person must know that the services are made available on the basis that they are chargeable, which is certainly the case in respect of official TV broadcasts or streams.
Section 44 of the Serious Crime Act 2007 relates to those intentionally encouraging or assisting an offense. As pointed out by FACT CEO Kieron Sharp, customers of pirate streaming services also commit an offense. This was also stated in letters previously sent to the customers of GE Hosting who were told by Norfolk and Suffolk Police they were committing an offense under the Fraud Act.
The allegations against the recently arrested suspect indicate that he could be held responsible for assisting his customers to commit a crime.
The money laundering aspect is a natural consequence of generating gain from crime and then possessing, concealing, or otherwise dealing with assets including, but not limited to, cash and other forms of money.
Current information indicates that the suspect hasn't yet been formally charged.