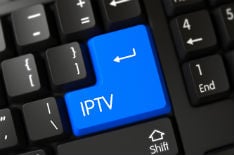 Pirate IPTV services have flourished in the past few years with little to hold them all back.
To counter the threat, however, US-broadcaster DISH Network hasn't taken its foot off the gas, filing numerous lawsuits in local courts in an effort to shut at least some of them down.
DISH seems to pick its targets wisely, enjoying success in many of not all of its lawsuits. This week the company added another victory to its collection after obtaining a preliminary injunction to prevent a pirate IPTV service from infringing its rights.
Filed under seal back in late January at a Florida court, the complaint targeted Robert Reich, an alleged resident of Riviera Beach, Florida. Reich's IPTV service reportedly operates under various business names including Channel Broadcasting Corporation of Belize Ltd, Channel Broadcasting Cable, CBC Cable, and CBC.
The 'Pirate' Rebroadcasting Scheme
According to DISH, Reich is the owner and operator of the 'CBC X-View Cable Service' which does business at CBC.bz. DISH alleges that the service is actually a pirate TV operation that utilizes official DISH subscriber accounts (many of which have Florida addresses) to steal the company's programming before retransmitting it via the Internet.
The image below shows around half of the channels offered by the service, many of which are licensed exclusively by DISH.
"Defendant sells subscriptions to the CBC pirate television service for $60 per month plus a $55 installation fee. To purchase a subscription, customers can contact CBC through a variety of means according to CBC's website, including telephone, email, Facebook, and WhatsApp VOIP service," the complaint reads.
In addition to regular subscribers, DISH alleges that the service is also being used in several hotels in Belize including the Radisson Fort George. DISH claims that error messages from its services were observed on television sets in the hotels showing that the programming had indeed been retransmitted from its platform.
DISH commonly files anti-IPTV lawsuits under copyright law or the Federal Communications Act, with the latter being used in this case. The company alleges breaches of 47 U.S.C. § 605(a) and 47 U.S.C. § 605(e)(4) which covers the sale of device codes (aka subscriptions) and piracy devices such as configured set-top boxes.
Statutory damages of between $1,000 and $10,000 are available for each violation of Section 605(a) and up to $100,000 if the violation was committed willfully and for financial gain. Section 605(e)(4) allows for statutory damages up to $100,000 for each violation.
Defendant Tracked Down and Served in Belize
The docket shows that on April 24, 2020, a former police officer and process server hired by DISH served documents on Robert Reich at his residence in Belize, including an ex parte motion for temporary restraining order and motion for preservation order and asset freeze previously granted by the court.
In response, Reich filed a motion to quash, arguing that the court that it had no jurisdiction over him because he hadn't been properly served. After highlighting conflicting statements submitted by Reich and his wife, earlier this month Judge Rodney Smith dismissed the motion and sided with DISH.
Temporary Restraining Order Converted to Preliminary Injunction
This week the court noted that it had previously granted a temporary restraining order (TRO) against Reich based on several findings, including that since DISH was likely to succeed in its claims under the FCA, the continued distribution of pirate subscriptions and devices would cause "irreparable injury" to the company.
Since then, however, the court acknowledged that the parties had met and agreed to convert the TRO into a preliminary injunction to be formalized by the court, in advance of an upcoming hearing.
As a result, Judge Smith was happy to carry that out by restraining Reich and all of his businesses from continuing to infringe DISH's rights. That includes receiving and/or distributing DISH programming without permission and selling or distributing devices "marketed, designed or intended for receiving or assisting others" in receiving DISH programming.
Reich was further restrained from destroying, hiding or transferring any computer servers, satellite equipment, software, set-top boxes and documentation that have been used (or could be used) to support his pirate IPTV service.
Finally, Reich had severe restrictions placed on his assets, including physical items, cash and bank accounts, preventing any transfer beyond what's required for "reasonable" living and business expenses. The court told Reich that he must now "keep detailed records" of all his expenditures.
"Defendant, and anyone acting in active concert or participation with Defendant or Defendant's CBC TV Service at issue in this action who receives actual notice of this Order, is warned that any act in violation of any of the terms of this Order may be considered and prosecuted as contempt of this Court," Judge Smith warned.
The complaint and supporting documents can be found here (1,2,3,4 pdf)