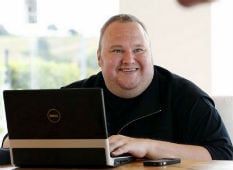 After three days of hearings in Auckland, Kim Dotcom left court smiling today.
The recent appearances were triggered by new claims from United States authorities who want to extradite Dotcom to face charges of copyright infringement, money laundering and racketeering.
They alleged that the Megaupload founder had breached his bail conditions on numerous occasions since his arrest in early 2012 and should put back behind bars as a result.
Relying on what appeared to be wiretap evidence from FBI Special Agent Rodney Hays, who did not appear in court, the Crown said that Dotcom had indirectly associated with Julius Bencko, a former Megaupload developer also named in the U.S. indictment.
During the hearing it was also put to Dotcom that with his knowledge, estranged wife, Mona, had attempted to sell a 2010 Rolls Royce Phantom, a $500,000 forfeitable asset.
Also of concern to the United States is Dotcom's alleged wealth. Last week Dotcom admitted that since his arrest in 2012 he'd made $40m, but that had all been spent on a luxurious lifestyle and funding a $10m legal battle. The Crown argued that it could not be ruled out that Dotcom had money hidden away, a factor which elevated him as a flight risk.
Also under discussion was the exit of Dotcom's legal team, which reportedly ditched him after learning that the money had run out. This would be a significant problem for Dotcom during next year's extradition battle and could indicate that the Megaupload founder would flee rather than face extradition, the Crown argued.
But in the end, none of the arguments convinced the Auckland District Court to jail Dotcom today.
Judge Nevin Dawson said there was "no proof" that Dotcom had contacted former Megaupload staff, nor was there evidence to back up claims that he'd hidden money away to facilitate a pre-extradition escape from New Zealand.
However, Judge Dawson did recognize that the risk of Dotcom fleeing would increase as next year's hearing nears so with that in mind he banned the entrepreneur from traveling by helicopter or sea, unless that transport is via a public service. Dotcom was also ordered to double up on his current once weekly visits to a police station.
Leaving the Court, a clearly relieved Dotcom told waiting reporters that he had been exonerated.
"The Court has found that i've not breached any of my bail conditions," Dotcom said.
"I have been probably the most compliant and exemplary candidate and I am surprised, even though I'm going home right now, that my bail conditions have been tightened."
Dotom said that the attempt to revoke his bail was timed by local and U.S. authorities to exploit his during a moment of weakness.
"I think this is another example of harassment and bullying by the United States government in concert with the New Zealand government," he said.
"I think this whole application was only made because my lawyers decided to resign because of lack of funds on my part because Hollywood has seized the new family assets that have been earned after the raid. So the Crown and the U.S. government have used this opportunity in a weak moment to make up the bogus case for me having breached my bail conditions."
Dotcom went further still, accusing the FBI's Special Agent Rodney Hays of flat-out lying to the Court.
"I invite every member of the media to have a look at the Court file and see how an FBI agent lied in his declarations that I have attempted to sell a car, that I have attempted to get a refund for forfeitable assets, and that I have breached my bail conditions by being directly or indirectly in contact with one of my co-defendants," Dotcom said.
"All these things have been proven to be wrong, and lies, and I invite everyone to have a look at this to understand the tactics of the U.S. government and to understand that the U.S. government can not be treated with candor and good faith in this case.
"The same thing that I've experienced in this bail hearing I've also experienced with the indictment, which is just as flawed and wrong and misleading and malicious as this bail proceeding was."
Handing questions over to his lawyer Ron Mansfield, who Dotcom praised for doing an excellent job, the German smiled.
"I am now going home to play with my kids."