As part of what is now clearly a crackdown on Great Firewall-evading tools and services, during the summer Chinese government pressure reached technology giant Apple.
On or around July 29, Apple removed many of the most-used VPN applications from its Chinese app store. In a short email from the company, VPN providers were informed that VPN applications are considered illegal in China.
"We are writing to notify you that your application will be removed from the China App Store because it includes content that is illegal in China, which is not in compliance with the App Store Review Guidelines," Apple informed the affected VPNs.
Apple's email to VPN providers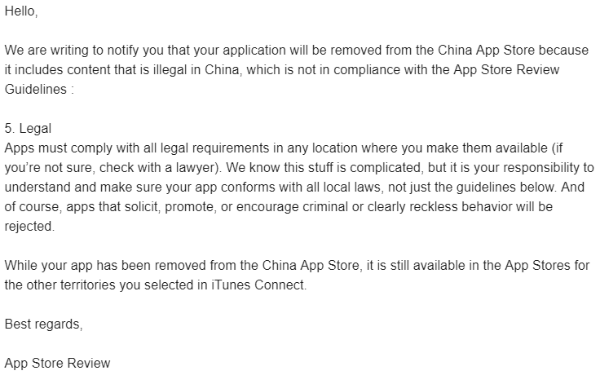 Now, in a letter sent to Apple CEO Tim Cook, US senators Ted Cruz and Patrick Leahy express concern at the move by Apple, noting that if reports of the software removals are true, the company could be assisting China's restrictive approach to the Internet.
"VPNs allow users to access the uncensored Internet in China and other countries that restrict Internet freedom. If these reports are true, we are concerned that Apple may be enabling the Chinese government's censorship and surveillance of the Internet."
Describing China as a country with "an abysmal human rights record, including with respect to the rights of free expression and free access to information, both online and offline", the senators cite Reporters Without Borders who previously labeled the country as "the enemy of the Internet".
While senators Cruz and Leahy go on to praise Apple for its contribution to the spread of information, they criticize the company for going along with the wishes of the Chinese government as it seeks to suppress knowledge and communication.
"While Apple's many contributions to the global exchange of information are admirable, removing VPN apps that allow individuals in China to evade the Great Firewall and access the Internet privately does not enable people in China to 'speak up'," the senators write.
"To the contrary, if Apple complies with such demands from the Chinese government it inhibits free expression for users across China, particularly in light of the Cyberspace Administration of China's new regulations targeting online anonymity."
In January, a notice published by China's Ministry of Industry and Information Technology said that the government had indeed launched a 14-month campaign to crack down on local 'unauthorized' Internet platforms.
This means that all VPN services have to be pre-approved by the Government if they want to operate in China. And the aggression against VPNs and their providers didn't stop there.
In September, a Chinese man who sold Great Firewall-evading VPN software via a website was sentenced to nine months in prison by a Chinese court. Just weeks later, a software developer who set up a VPN for his own use but later sold access to the service was arrested and detained for three days.
This emerging pattern is clearly a concern for the senators who are now demanding that Tim Cook responds to ten questions (pdf), including whether Apple raised concerns about China's VPN removal demands and details of how many apps were removed from its store. The senators also want to see copies of any pro-free speech statements Apple has made in China.
Whether the letter will make any difference on the ground in China remains to be seen, but the public involvement of the senators and technology giant Apple is certain to thrust censorship and privacy further into the public eye.