Earlier today the popular music tracker What.cd became inaccessible.
While the reason for the sudden outage remained a mystery for a while, a message that was just posted on the site and official Twitter account shows that the downtime is likely to be permanent.
What.cd appears to have shut down effective immediately, and the site's operators say they've destroyed all data in the process.
"Due to some recent events, What.CD is shutting down. We are not likely to return any time soon in our current form. All site and user data has been destroyed. So long, and thanks for all the fish," the announcement reads.
What.cd farewell message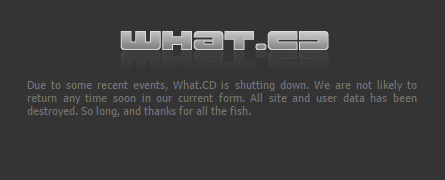 According to the French news site Zataz, the cybercrime unit of the Gendarmerie (C3N) raided twelve servers operated by the tracker at hosting provider OVH, and one server that was stored at Free.
TorrentFreak spoke to Damien Bancal, the author of the article, who noted that the information came from credible and trusted sources. Also, C3N confirmed that there was a police operation this morning, but didn't specifically mention What.cd.
The French music industry group SACEM was reportedly involved in the investigation, which has been ongoing for two years. No arrests have been reported, and it's unclear if any of the seized data is readable.
TorrentFreak reached out to SACEM, What.cd's hosting provider, and one of the site's operators, and we will update this article if a response is forthcoming.
With the apparent demise of What.cd, the torrent world will lose one of its biggest icons.
What.cd first appeared online in the fall of 2007, just a handful of days after the demise of the largest music tracker at the time, OiNK.
What.cd's founders wanted to give nearly 200,000 homeless music fans somewhere to go, a place they could call home – a torrent site to fill the void left by the closure of the Pink Palace.
In the years that followed, What.cd grew beyond all expectations, outgrowing OiNK and establishing itself as the greatest music-sharing torrent site the world has ever known.
Today, this journey appears to have come to an end.