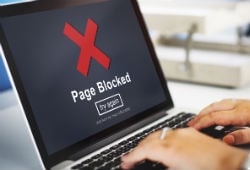 The music industry sees stream ripping as one of the largest piracy threats, worse than torrent sites or direct download portals.
Last year the RIAA, IFPI and BPI filed legal action against YouTube-MP3, the largest stream ripping site at the time. This case eventually resulted in a settlement where the site agreed to shut down voluntarily.
This was a clear victory for the music groups which swiftly identified their next targets. These include Convert2mp3.net, Savefrom.net, MP3juices.cc and YtMp3.cc, which were highlighted by the RIAA in a letter to the US Government.
The legal action against YouTube-MP3 and the RIAA's notorious markets report appears to have made an impact, as MP3Juices.cc and YtMp3.cc have shut their doors. Interestingly, this only applies to the UK.
..not available in the UK
It's unclear why both sites are "shutting down" in the UK and not elsewhere, as the operators haven't commented on the issue. However, in other parts of the world, the site is readily available.
MP3juices
Last year, music industry group BPI signed an agreement with YouTube-MP3 to block UK visitors, which sounds very familiar. While the BPI is not directly responsible for the recent geo-blocks, the group sees it as a positive trend.
"We are seeing that the closure of the largest stream ripping site, YouTube-mp3, following coordinated global legal action from record companies, is having an impact on the operations of other ripping sites," BPI Chief Executive Geoff Taylor informs TorrentFreak.
"However, stream ripping remains a major issue for the industry. These sites are making large sums of money from music without paying a penny to those that invest in and create it. We will continue to take legal action against other illegal ripping sites where necessary."
Stream rippers or converters are not by definition illegal, as pointed out by the CCIA last week. However, music industry groups will continue to crack down on the ones they view as copyright infringing.
MP3Juices.cc and YtMp3.cc are likely hoping to take the pressure off with their voluntary geo-blocking. Time will tell whether that's a good strategy. In any event, it didn't prevent YouTube-MP3 from caving in completely, in the end.