 With millions of visitors per day, YouTube-MP3.org is one of the most visited websites on the Internet.
The site allows its visitors to convert YouTube videos to MP3 files, which they can then listen to where and whenever they want. The music industry sees such "stream ripping" sites as a serious threat to its revenues, worse than traditional pirate sites.
In an attempt to do something about it, a coalition of record labels, represented by the RIAA, took YouTube-MP3 to court last year.
A complaint filed in a California federal court accused the site's operator of various types of copyright infringement. In addition, the labels accused the site of circumventing YouTube's copying protection mechanism, violating the DMCA.
"Through the promise of illicit delivery of free music, Defendants have attracted millions of users to the [YouTube-MP3] website, which in turn generates advertising revenues for Defendants," the labels complained.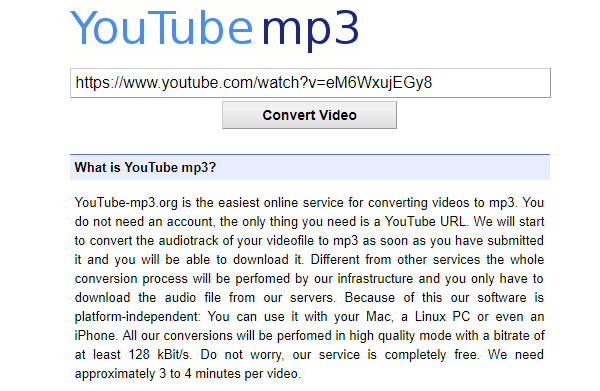 Today, a year later, both parties have settled their differences. While there haven't been many updates in the court docket, a recent filing states that both parties have agreed to a settlement.
The details of the deal are not public, but YouTube-MP3 is willing to take all the blame. In a proposed final judgment, both parties ask the court to rule in favor of the labels on all counts of the complaint. In addition, the site's owner Philip Matesanz agreed to pay a settlement amount.
On all counts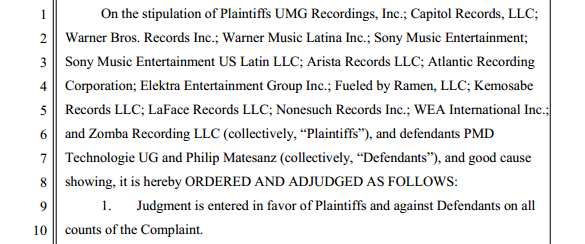 In addition to the order, a proposed injunction will prohibit the site's operator from "knowingly designing, developing, offering, or operating any technology or service that allows or facilitates the practice commonly known as "streamripping," or any other type of copyright infringement for that matter.
This injunction, which RIAA and YouTube-MP3 both agreed on, also states that the site's domain name will be handed over to one of the record labels.
"Defendants are ordered to transfer the domain name www.youtube-mp3.org to the Plaintiff identified in, and in accordance with the terms of, the confidential Settlement Agreement among the parties," it reads.
If the owner refuses to comply, the registrar will be ordered to sign over the domain name, which means that there's no escaping.
While the court has yet to sign the proposed judgment and injunction (pdf), it is clear that YouTube-MP3 has thrown in the towel and will shut down. At the time of writing the site remains online, but this likely won't be for long.
Update: US District Court Judge André Birotte Jr. signed the judgment, which is now final (pdf).
Update: YouTube-MP3 has shut down. BPI released a statement stating that they have a private agreement with the site since last year, to block UK traffic.