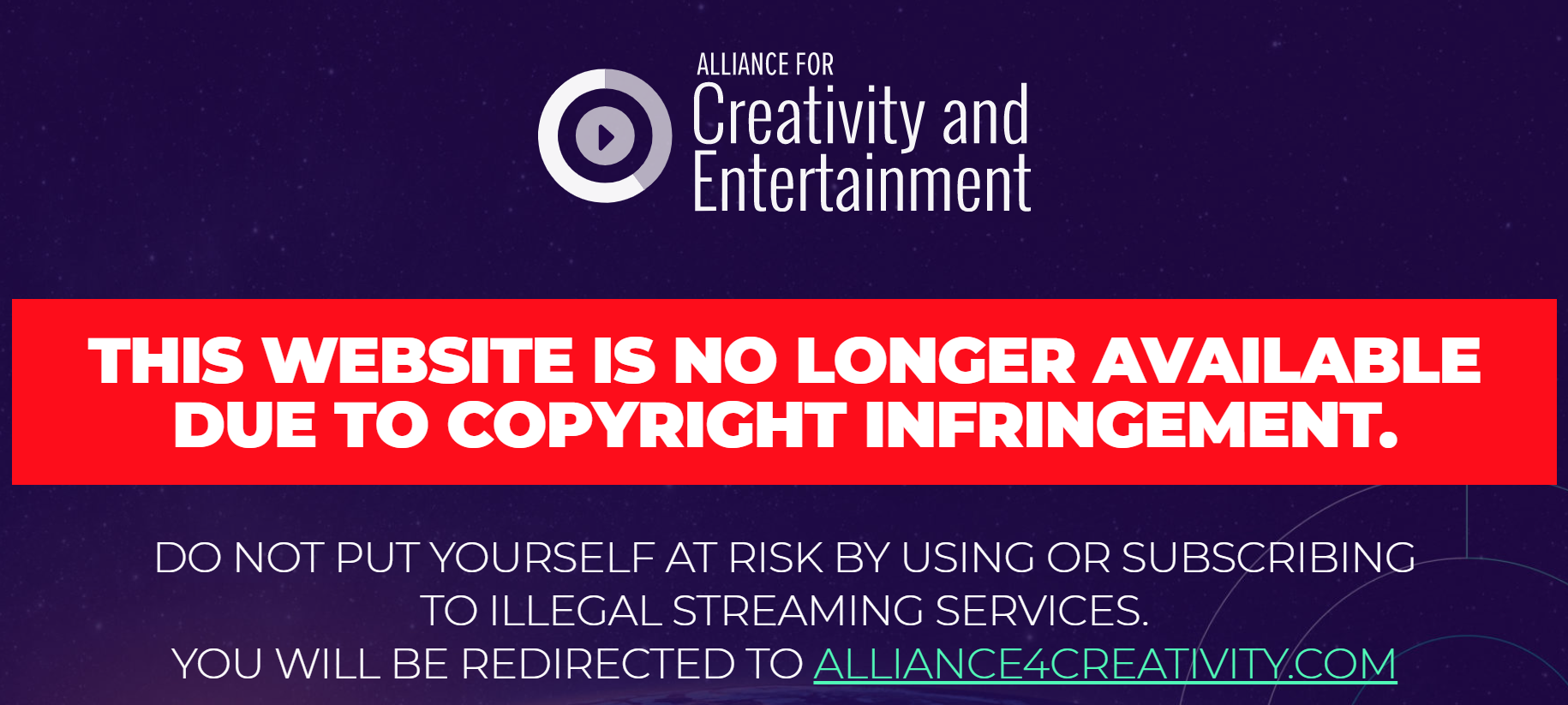 There are just three certainties in life – death, taxes, and regular announcements by the Alliance for Creativity and Entertainment that more pirate sites have been shut down.
The latest to fall to ACE are all part of an Argentina-based streaming ring, variously branded as Pelismart and Pelispop. ACE says that seven domains, all belonging to the same operator, were taken down in August following enforcement action in July.
27 Million Visits Per Month
ACE says that the four most popular domains – pelismart.com, pelispop.me, pelispoptv.com and pelispophd.com – had combined monthly traffic of over 27 million visits, offering movies and TV shows for streaming and download.
After tracking down their operator, ACE says that an agreement was reached to transfer the domains to ACE and enter into a settlement, the terms of which haven't been disclosed.
"This is a huge win for the ACE team based in Latin America as we work to protect the legitimate digital ecosystem throughout the region," said Jan van Voorn, Executive Vice President and Chief of Global Content Protection for the Motion Picture Association.
"While there are larger services that continue to operate in the region, it is only a matter of time before we will shut them down and the operators will undoubtedly have criminal charges filed against them in the countries where they currently reside."
Sites Identified as Targets Many Months Ago
As part of ACE/MPA investigations, the groups often obtain DMCA subpoenas in the United States that compel intermediaries such as Cloudflare to hand over information on pirate sites.
In November 2020, one such subpoena listed a Pelismart-branded domain as a target. In May 2021, another DMCA subpoena targeting Cloudflare mentioned Pelismart once again. This April, another subpoena citing a Pelispop-branded domain showed that ACE was still on the trail.
Other Pirate Sites Under Investiagtion
DMCA subpoena applications in the United States often provide an early signal that sites are under investigation or face other action, such as site-blocking processes in various jurisdictions.
These are the domains listed in numerous ACE/MPA subpoena applications filed in the last couple of weeks, which require Cloudflare and Tonic Domains to hand over whatever details they hold on their customers:
– cardsharingkaufen.to (IPTV)
– scws.xyz (IPTV)
– watchseries.pics (streaming)
– tamilblasters.cloud (streaming)
– 1tamilMV.team (streaming)
– moviehdfree.net (streaming)
– tvshows88.com (streaming)
– baixarseriesmp4.top (streaming)
– comando.to (streaming)
– 0123movie.net (streaming)
– Imaple.co (streaming)
– momovod.tv (streaming)
– movieffm.cc (streaming)
– streamblasters.live (streaming)
– streamingcommunity.agency (streaming)
– streamingcommunity.best (streaming)
– cb01.kaufen (streaming)
– cb01.rodeo (streaming)
– ilcorsaronero.link (streaming)
– eurostreaming.party (streaming)
– eurekaddl.pics (streaming)
– globsalstore.uk (streaming)
– moviestars.to (streaming)
– netcine.to (streaming)
– ondebaixa.com (streaming)
– supertela.org (streaming)
– warezcdn.com (streaming)
– joymovies.123streamcms.bid (streaming)
– sapphirebilling.net (IPTV)
– televisiongratisenvivo.com (IPTV)
– sltube.com (streaming) – Part of the StreamLare operation and a key enforcement target
The DMCA subpoena documents can be found here (1,2,3,4,5,6,7, pdf)