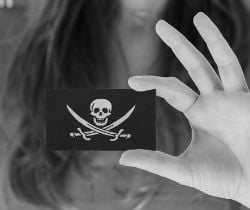 Hurting the revenue streams of infringing sites has become a prime anti-piracy strategy for the entertainment industries in recent months.
By cutting off revenue through deals with payment providers and advertising agencies, they hope to make it less profitable to operate these sites.
This is not an easy task, as there are many advertising companies who are still eager to team up with "rogue" torrent sites and streaming portals. Likewise, site owners often implement tricks to hide the site where the ads are displayed.
As a result, several major brands see their ads showing up on sites they don't want to be associated with. A few weeks ago a report from the Digital Citizens Alliance revealed that companies such as Amazon, American Express, Dell, Ford, Lego, McDonalds, Xfinity are contributing to the problem.
These problematic ad placements were also highlighted by a publication of the Australian media and entertainment group mUmBRELLA, which focused on ads appearing on streaming portals such as watchseries.lt and videoweed.es. The report shows that American Express and other brands had their ads on display, and that the companies were asked for comment.
As expected, none of the major brands said it willingly promoted its products through these pirate sites. However, the explanations that were given varied, and the response from American Express was the most intriguing of all.
The payment processor's media agency Mindshare says that the ads in question weren't real ads at all. Instead, American Express accuses the pirate sites of "photoshopping" their banners into their designs, to increase site credibility.
AmEx on Videoweed
Timothy Whitfield, general operations director at the responsible advertising placement outfit Xaxis, confirms this suspicion.
"Now when we dug into it what happened is that in some cases they were using basic photoshopping skills to take an old creative from Amex and building it into the homepage and into the video leads and on the homepage of the website," Whitfield said
"It wasn't a real creative it was just someone who had photoshopped it into the site. Now the reason that we think they were doing that is that they were working very hard to make themselves look like a reputable website," he ads.
While this type of banner 'theft' is certainly an option, TorrentFreak was unable to replicate the finding from a wide variety of locations. It is also unclear why the sites in question would give up valuable advertising placements. There is hardly any positive effect on the site's reputation when it's not done structurally.
The insurance company Allianz was also caught advertising on pirate sites, but here the explanation was a more common one. According to Whitfield, Xaxis didn't place the ad directly, but instead it loaded through several iframes thereby disguising the website where it appeared.
Through this "nesting" technique pirate sites can trick advertising agencies and have higher paid ads.
"Every man and his dog blocks these websites – Watchseries.it, Videoweed etc. – but because you're seven layers deep you don't know if it is one you have blocked or not," Whitfield said in a comment.
Finally, HotelsCombined came up with yet another reason why their banners appeared on infringing websites. Again, without their explicit knowledge.
Kristen McKenzie, global PR and content manager of HotelsCombined, explained that it may have been the result of ad-retargeting. HotelsCombined tracks people who visit their website, and their advertising provider then displays ads on some of the sites these people visit afterwards.
"Our retargeting provider does not disclose their extensive list of networks, and with millions of different sites being accessed simultaneously in real-time, it is ultimately impossible for us to police where retargeting may occur," McKenzie said.
The above shows that getting rid of banners on rogue sites is proving to be more difficult than simply compiling a blacklist. It's a cat and mouse game, much like the efforts to go after hosting companies and payment providers. And if pirates are starting to use Photoshop to promote brands for free, it's never-ending.