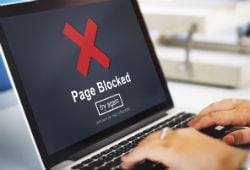 Back in January 2017, China's Ministry of Industry and Information Technology announced a 14-month campaign to crack down on 'unauthorized' Internet platforms.
China said that Internet technologies and services had been expanding in a "disorderly" fashion, so regulation was required. No surprise then that the campaign targeted censorship-busting VPN services, which are used by citizens and corporations to traverse the country's Great Firewall.
Heralding a "nationwide Internet network access services clean-up", China warned that anyone operating such a service would require a government telecommunications business license. It's now been more than a year since that announcement and much has happened in the interim.
In July 2017, Apple removed 674 VPN apps from its App Store and in September, a local man was jailed for nine months for selling VPN software. In December, another man was jailed for five-and-a-half years for selling a VPN service without an appropriate license from the government.
This week the government provided an update on the crackdown, telling the media that it will begin forcing local and foreign companies and individuals to use only government-approved systems to access the wider Internet.
Ministry of Industry and Information Technology (MIIT) chief engineer Zhang Feng reiterated earlier comments that VPN operators must be properly licensed by the government, adding that unlicensed VPNs will be subjected to new rules which come into force on March 31. The government plans to block unauthorized VPN providers, official media reported.
"We want to regulate VPNs which unlawfully conduct cross-border operational activities," Zhang told reporters.
"Any foreign companies that want to set up a cross-border operation for private use will need to set up a dedicated line for that purpose," he said.
"They will be able to lease such a line or network legally from the telecommunications import and export bureau. This shouldn't affect their normal operations much at all."
Radio Free Asia reports that state-run telecoms companies including China Mobile, China Unicom, and China Telecom, which are approved providers, have all been ordered to prevent their 1.3 billion subscribers from accessing blocked content with VPNs.
"The campaign aims to regulate the market environment and keep it fair and healthy," Zhang added. "[As for] VPNs which unlawfully conduct cross-border operational activities, we want to regulate this."
So, it appears that VPN providers are still allowed in China, so long as they're officially licensed and approved by the government. However, in order to get that licensing they need to comply with government regulations, which means that people cannot use them to access content restricted by the Great Firewall.
All that being said, Zhang is reported as saying that people shouldn't be concerned that their data is insecure as a result – neither providers nor the government are able to access content sent over a state-approved VPN service, he claimed.
"The rights for using normal intentional telecommunications services is strictly protected," said Zhang, adding that regulation means that communications are "secure".