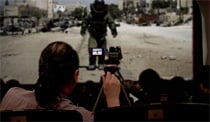 While the Internet provides an unrivaled distribution mechanism for illicit digital goods, cinemas themselves are often depicted as the front line against pre-release piracy.
Just as the latest blockbusters air for the first time to an eager public, in their midst are individuals who aim to record movies and place them online for the enjoyment of others. And even as discerning consumers seek out pristine high-definition content, third-rate 'cammed' copies of movies are still gobbled up online.
In an effort to mitigate the number of titles that end up on the Internet from UK sources, the Hollywood-funded Federation Against Copyright Theft (FACT) promotes the Take Action initiative. In place since 2006, this anti-piracy scheme is funded by UK film distributors via the Film Distributors' Association (FDA) and encourages local cinema staff to catch 'cammers' in the act.
In its latest report, FACT says that staff from four of the UK's largest cinema chains – Cineworld, Odeon, Vue and Showcase cinemas – stepped in during the past six months to interrupt those suspected of recording movies including The Hunger Games, Fifty Shades of Grey and The Theory of Everything.
In all 11 cinema employees were involved in a total of 11 incidents. Police reportedly attended on all occasions, leading to four cautions and three arrests.
For their efforts the cinema staff pictured right were invited to a ceremony hosted by Universal Pictures where they were presented with certificates and cash rewards. The precise amounts aren't being released but for the period the maximum is £500 per person.
However, FACT now reports that for a limited time more money is on the table. Any cinema staff who prevent and report unauthorized recording between 20th April and 30th June 2015 can expect to get paid a maximum of £1000.
"FACT's strategy, funded by the film distributors and put into action by cinema staff across the UK, seeks to identify and prevent the initial recording that seeds piracy globally," says FACT Director General Kieron Sharp.
"We continue to work together with UK cinema operators to support the success of the cinema experience and to allow continued investment by FACT's members in exciting entertainment for all audiences."
Despite the successes, the number of incidents in the current reporting period is up on the previous set of figures published last year.
Stats released in September 2014 reveal that there were seven "incidents", all of which were attended by the police. In five incidents the alleged cammers accepted police cautions, with just one incident leading to an arrest. Nine cinema staff picked up rewards.
During the reporting period April 2013 to December 2013, a dozen alleged cammers of major movies were spotted in UK cinemas resulting in five arrests but no prosecutions. A total of 15 cinema workers picked up rewards.
Although groups like FACT have a vested interest in publicizing the negative fates of alleged cammers, those with less than favorable outcomes are largely avoided. The most recent involved the November 2013 arrest and early 2014 trial of a man accused of attempting the world's first in-cinema 3D recording of the movie Gravity. It didn't go well.
The case fell apart, with the judge commenting that "It ought to have been absolutely clear there was no legal basis for it." Although the defendant, a Birmingham-based student, did enter a cinema with camera equipment, he did not record a moment of the film. Nevertheless, he was reported by cinema staff who called in the police. It's not clear whether any reward was paid in that case.
Also of interest is a December 2014 incident when staff at a Cineworld cinema dialed the national 999 emergency number after spotting a group of 12-year-old girls with iPhones and iPads at a showing of The Hunger Games, a movie mentioned in the most current rewards report.
After a police search at the scene turned up nothing incriminating the girls were allowed back in. However, the teens waited outside, reportedly in tears, until their parents came to pick them up. It is not clear whether any cinema staff were given a reward for this incident either.
While a little extra cash will no doubt be welcomed by some cinema staff and effective hindering of real pirates greatly appreciated by the studios, there is always a risk that the money available will cloud judgement. Nevertheless, police seem ever more willing to get involved.
Documents previously obtained by TorrentFreak revealed that in 2008 there were 50 UK camming incidents, with police attending on just two occasions. If current figures are to be believed, in today's climate they are almost guaranteed to respond.