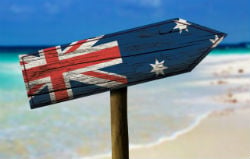 Pirate site blockades are the preferred anti-piracy tool for many copyright holders around the world. This is also the case in Australia, where blocking injunctions are commonplace today.
This week, a group of prominent Hollywood studios, Netflix, and Village Roadshow, obtained the latest blocking order in Australia's Federal Court.
Fresh Blocking Order
The complaint, filed in December, targets 34 sites and a total of 54 domain names. Most of the pirate sites are streaming portals, such as 123movies, Yomovies, Soap2Day, Myflixer, Vumoo, and 123Chill.
The movie companies also added ETTVCentral.com, a domain that was used by the popular torrent distribution group ETTV. However, that doesn't make much of an impact as the site was shut down due to financial issues a few weeks ago.
The court's order is directed at all the major Australian Internet providers including those operating under Telstra, Optus, Vocus, TPG and Vodafone corporate groups. These ISPs have 15 days to disable access to the listed domains and IP addresses.
In addition, Internet providers are required to inform blocked visitors about the underlying court action. This can be done by redirecting traffic to a dedicated blocking page.
"[ISPs] must use reasonable efforts to ensure that the webpage informs the user of that Respondent's service that access to that website has been disabled because this Court has determined that it infringes or facilitates the infringement of copyright," the order reads.
Whack a Mole
In the past, pirate sites have often switched to new domain names in an attempt to bypass blocking measures. This is still an option today, but the rightsholders have the liberty to send updated locations to the ISPs, which then have to be blocked as well.
This week's order is initially valid for three years but the movie companies are allowed to ask for an extension if the sites remain operational going forward.
In theory, the affected sites have the option to object to the blocking measures but, as far as we know, none of the pirate sites intends to do so.
Most of the pirate sites that will be blocked gained popularity after their competitors were targeted in earlier blocking rounds. We expect that this pattern will continue to repeat itself.
At the same time, however, there is also research that suggests that the majority of Aussie pirates simply give up instead of looking for alternative sources. A smaller but significant percentage use a VPN to bypass the blocking measures.
—
A copy of the blocking order, obtained by Village Roadshow, Disney, Paramount, Columbia, Universal, Warner Bros, and Netflix is available here (pdf). A full list of all the blocked domain names, some of which are mirrors, can be found below.
– Yomovies.so
– Yomovies.is
– Yomovies.ac
– Yomovies.cs
– Yomovies.sh
– Cimaclub.cc
– Cima-club.cc
– Goojara.to
– Movamovie.net
– Nmovies.cc
– 123movies.gy
– 123movies.vu
– 123movies.page
– 123movies.ms
– Movieswatch.tv
– Putlocker-website.com
– Musichq.net
– Dopebox.to
– Dopebox.net
– 123chill.to
– 123series.ru
– M4uhd.tv
– Flixhq.ru
– Ummagurau.com
– Watchmovieshd.ru
– Kiss-cartoon.io
– Soap2day.video
– Soap2day.film
– Swatchseries.ru
– Watchserieshd.ru
– Watchserieshd.ru
– Ettvcentral.com
– Vumoo.life
– W-123movies.com
– 123moviess.sc
– New.la123movies.org
– La123movies.org
– 123movies-official.site
– M4ufree.com
– Ssoap2day.to
– Ssoap2day.art
– Moviesjoy.one
– Gomovies.fan
– Putlockers.li
– 7movierulz.lv
– 7movierulz.pw
– 7movierulz.mg
– 7movierulz.vg
– 7movierulz.mx
– 7movierulz.pe
– Myflixer.to
– Primewire.es
– Putlocker.es