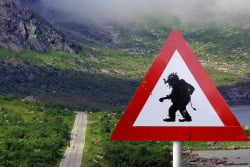 Over the years, copyright trolls have been accused of involvement in various dubious schemes and actions, but there's one group that has gone above and beyond.
Prenda Law grabbed dozens of headlines, mostly surrounding negative court rulings over identity theft, misrepresentation, and even deception.
Most controversial were the shocking revelations that Prenda itself produced adult videos and uploaded their own torrents to The Pirate Bay, creating a honeypot for the people they later sued over pirate downloads.
The allegations also raised the interest of the U.S. Department of Justice, which indicted Prenda principals John Steele and Paul Hansmeier late 2016. The US Government accused the pair of various crimes, including money laundering, perjury, and wire fraud.
As the case progressed both defendants signed plea agreements, admitting their guilt in the fraudulent scheme. Last month this resulted in a 14 year prison term for Hansmeier, and today,  John Steele learned of his fate.
During a hearing this morning, U.S. District Judge Joan N. Ericksen convicted Steele to a five-year prison sentence. In addition, the disbarred attorney must pay his victims little over $1.5 million in restitution.
Today's sentencing ironically comes 11 years after Steele was first admitted to the bar.
The lower sentence, compared to Hansmeier, comes as no surprise. It was specifically recommended by the prosecution, which stressed that Steele didn't shy away from the ugly truth of his crimes and was very cooperative following the indictment.
"Unlike co-defendant Hansmeier, Mr. Steele accepted responsibility for his actions and immediately began zealously and passionately cooperating with the Government," the prosecution said previously.
"Even before the Government shared the evidence with the defense, Mr. Steele was in their office speaking to numerous law enforcement agents
and prosecutors about everything he did. He never lied and never minimized his actions."
According to the US Department of Justice, Steele deserved a significant prison term. However, his cooperation and genuine remorse should be taken into account.
Based on the sentencing guidelines Steele faced a potential prison sentence of more than 12 years, but Assistant U.S. Attorney Benjamin Langner recommended five years in prison instead.
Judge Ericksen went along with this recommendation. The Judge noted that courts "are not a tool in the box for anybody's hustle," adding that the five-year sentence was "imminently fair," as the Star Tribune report.
"I condemn the actions that you took in committing this crime. I congratulate you, however, on the actions you took" in responding to the charges, Judge Ericksen said.
Although both Hansmeier and Steele have been sentenced, the Prenda saga is not completely over yet.
Hansmeier previously informed the court that he is appealing both the sentence and conviction. The Prenda principal challenges the reasonableness of the sentencing and the application of the sentencing guidelines.
A request from Hansmeier to await the result of the appeal as a free man was previously denied.
—