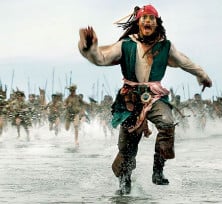 Last year BMG Rights Management and Round Hill Music sued Cox Communications, arguing that the ISP fails to terminate the accounts of repeat infringers.
As part of the discovery process the music outfits requested details on the accounts which they caught downloading their content.
In total there are 150,000 alleged pirates, but the court limited the initial disclosure to the top 250 infringing IP-addresses in the six months before the lawsuit was filed.
A few weeks ago Cox started informing its customers that their information would be handed over to the music companies. In a response, dozens of subscribers asked the court not to expose their identities.
Some argued that they should be dismissed because they have did not share the mentioned files. Another group explained to the court that they were wrongfully included, because they weren't Cox subscribers at the time of the alleged offense.
The latter issue is due to Cox's broad reading of an earlier court order. Instead of handing over details of subscribers who used the IP-addresses at the time of the infringements, the ISP also included the current IP-address holders.
Objection from a Cox subscriber
This week U.S. Magistrate Judge John Anderson ruled on the objections (pdf), concluding that the subscribers who did not use the IP-address at the time should be dropped.
"Several of the persons submitting objections have provided information to the court that is sufficient to establish that they were not assigned the IP addresses that are the subject of the court's ruling at the time of the alleged infringing activity.
"The court sustains the objections raised by those individuals," the order adds.
The other group of subscribers who merely claimed that they did not share any of the copyright infringing files, were less successful. Their requests were denied and Cox will share their personal details with the music companies.
"The mere denial of any infringing activity is an insufficient reason to justify quashing the subpoena to Cox. In addition, any concerns these individuals may have relating to privacy are addressed adequately by the provisions of the Protective Order entered in this action," the order reads.
The last part is important because many subscribers fear that the music companies will come after their money. However, the court assures them that their personal information can only be used as evidence in this lawsuit, not to demand settlements.
"The subscriber information produced in this action is to be used solely for the purposes of litigating the claims raised in this action between BMG/Round Hill and Cox and will not be used by BMG/Round Hill to solicit payments directly from Cox subscribers."
For the music companies this shouldn't be a problem. They previously said that they don't intend to pursue any individual subscribers in the lawsuit. How they do plan to use the personal details of the subscribers will become clear as the case proceeds.