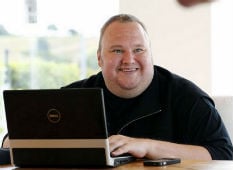 In the months leading up to the now infamous raid on Kim Dotcom's New Zealand mansion and his cloud storage site Megaupload, the entrepreneur and his associates were under surveillance.
Between December 2011 and March 2012, New Zealand authorities used the Government Communications Security Bureau (GCSB) spy agency to snoop on the private communications of Kim and former wife Mona Dotcom, plus Megaupload co-defendant Bram van der Kolk.
Since the GCSB is forbidden from conducting surveillance on New Zealand citizens or permanent residents in the country, the spying carried out against Dotcom was illegal. The GCSB admitted liability and will at some point pay damages, but Dotcom also demanded access to the recordings.
In 2017, however, the High Court rejected Dotcom's access request, stating that the release of the intercepted communications would not take place. Citing security concerns, the Court said that the public interest in not disclosing the information outweighed the benefits of disclosure.
This denial triggered a claim by Dotcom to the Court of Appeal. The result of that process is now in and it's more bad news for the Megaupload founder.
"The intercepted communications are relevant, and there is a public interest in them being disclosed so they may be put to use in and for purposes of this proceeding. Natural justice and open justice are the two dimensions to the public interest in favor of disclosure," a Court of Appeal statement reads.
However, the Court believes that disclosure is not absolutely necessary for justice to be done in this particular case. Furthermore, it must also weigh the broader public interest and potential fallout that could harm national security, if the GCSB's methods are compromised.
"The GCSB has admitted liability; what is in issue is the quantum of damages for dignitary losses. Summaries of information already disclosed will permit a fair trial in this case. The GCSB's claim that disclosure would harm national security and international relations is well-founded. The balancing exercise favors non-disclosure," the Court concludes.