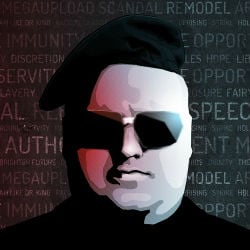 Following the huge raid on Kim Dotcom's mansion in January 2012, questions started to be asked about the legality of the warrants used to launch the operation.
In mid 2012 a High Court judge found that the warrants were not only overbroad but also illegal, providing a big boost to Dotcom's extradition battle prospects with the United States.
However, this February the Megaupload founder suffered a setback when the Court of Appeal overturned the earlier High Court ruling. While it was agreed the warrants contained flaws, the judges found that overall the warrants were legal.
But it's not over yet.
The Supreme Court has now granted Dotcom leave to appeal the Court of Appeal ruling from February.
"The Supreme Court granted us permission to argue the validity of search warrants used in this raid," Dotcom announced on Twitter.
The hearing is set for June 11 to June 12.