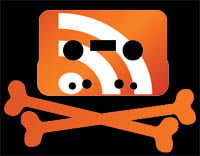 Downloading torrents remotely can come in quite handy when you're at work, in a record store or at a friends place. With a new feature at the Pirate Bay, you can do this with relative ease.
Instead of downloading the torrent directly, users now have the option to add the torrent to their personal RSS feed. When added to your feed, the torrent will download automatically when your BitTorrent client is running at home. That is, if your favorite BitTorrent client has RSS support. Luckily, almost all popular clients do by now.
"We hope that it's a small nice addition for people to remember to download stuff that you find on your cellphone, at your friends place or whatever, without the need to update your torrent client," says the mysterious KingKong over at The Pirate Bay.
The new RSS feature is still in beta, and users first have to add torrents to their personal RSS feed before it's created. At the time of writing the feeds are not updating correctly due to a caching issue, but we were told that this will be resolved soon. Pirate Bay users can find the link to their personal RSS feed in their account preference settings.
Please note that the Firefox browser may report the url as a possible threat, as we reported last week. We can assure you that it's perfectly safe to use though. Mininova users who want to download torrents remotely can use Mininova's bookmark feature, covered in our earlier article and isoHunt has a similar feature.
More great RSS tips and tricks can be found here. For the true torrent freaks out there, RSS really makes a difference.