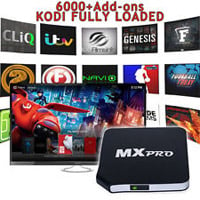 In the UK there's a war going on against streaming pirates. At least, that's what the local anti-piracy body FACT would like the public to know.
The popular media streaming platform Kodi is at the center of the controversy. While Kodi is perfectly legal, many people use it in conjunction with third party add-ons that offer pirated content.
FACT hopes to curb this trend. The group has already taken action against sellers of Kodi devices pre-loaded with these add-ons and they're keeping a keen eye on developers of illicit add-ons too.
However, according to FACT, the 'crackdown' doesn't stop there. Users of pirate add-ons are also at risk, they claim.
"And then we'll also be looking at, at some point, the end user. The reason for end users to come into this is that they are committing criminal offences," FACT's chief executive Kieron Sharp told the Independent.
While people who stream pirated content are generally hard to track, since they don't broadcast their IP-address to the public, FACT says that customer data could be obtained directly from sellers of fully-loaded Kodi boxes.
"When we're working with the police against a company that's selling IPTV boxes or illicit streaming devices on a large scale, they have records of who they've sold them to," Sharp noted.
While the current legal efforts are focused on the supply side, including these sellers, the end users may also be targeted in the future.
"We have a number of cases coming before the courts in terms of those people who have been providing, selling and distributing illicit streaming devices. It's something for the very near future, when we'll consider whether we go any further than that, in terms of customers."
The comments above make it clear that FACT wants users of these pirate devices to feel vulnerable and exposed. But threatening talk is much easier than action.
It will be very hard to get someone convicted, simply because they bought a device that can access both legal and illegal content. A receipt doesn't prove intent, and even if it did, it's pretty much impossible to prove that a person streamed specific pirated content.
But let's say FACT was able to prove that someone bought a fully-loaded Kodi box and streamed content without permission. How would that result in a conviction? Contrary to claims in the mainstream press, watching a pirated stream isn't an offense covered by the new Digital Economy Act.
In theory, there could be other ways, but given the complexity of the situation, one would think that FACT would be better off spending its efforts elsewhere.
If FACT was indeed interested in going after individuals then they could easily target people who use torrents. These people broadcast their IP-addresses to the public, which makes them easy to identify. In addition, you can see what they are uploading, and they would also be liable under the Digital Economy Act.
However, after FACT's decades-long association with the MPAA ended, its main partner in the demonization of Kodi-enabled devices is now the Premier League, who are far more concerned about piracy of live broadcasts (streaming) than content made available after the fact via torrents.
So, given the challenges of having a meaningful criminal prosecution of an end-user as suggested, that leaves us with the probability of FACT sowing fear, uncertainty, and doubt. In other words, scaring the public to deter them from buying or using a fully-loaded Kodi box.
This would also fit in with FACT's recent claims that some pirate devices are a fire hazard. While it's kind of FACT to be concerned about the well-being of pirates, as an anti-piracy organization their warnings also serve as a deterrent.
This strategy could pay off to a degree but there's also some risk involved. Every day new "Kodi" related articles appear in the UK tabloid press, many of them with comments from FACT. Some of these may scare prospective users, but the same headlines also make these boxes known to a much wider public.
In fact, in what is quite a serious backfire, some recent pieces published by the popular Trinity Mirror group (which include FACT comments) actually provide a nice list of pirate addons that are still operational following recent crackdowns.
So are we just sowing fear now or educating a whole new audience?