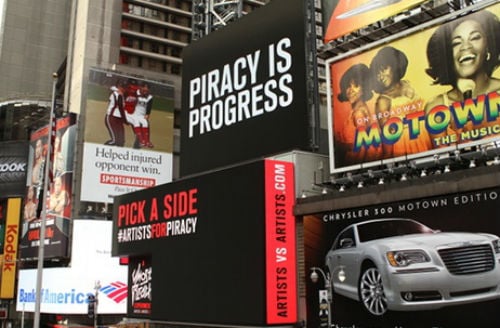 Research into online piracy comes in all shapes and sizes, often with equally mixed results. Often the main question is whether piracy is hurting sales.
A new study conducted by economist Koleman Strumpf is one of the most comprehensive on the subject so far.
Drawing on data from a popular BitTorrent tracker and revenue projections from the Hollywood Stock Exchange he researches how the release of a pirated movie affects expected box office income.
The research covers 150 of the most popular films that were released over a period of seven years, and the findings reveal that the release of pirated films on file-sharing sites doesn't directly hurt box office revenue.
"There is no evidence in my empirical results of file-sharing having a significant impact on theatrical revenue," Strumpf tells TorrentFreak in a comment.
"My best guess estimate is that file sharing reduced the first month box office by $200 million over 2003-2009, which is only three tenths of a percent of what movies actually earned. I am unable to reject the hypothesis that there is no impact at all of file-sharing on revenues."
So while there is a small negative effect, this is limited to three tenth of a percent and not statistically significant.
Interestingly, the data also reveals that movie leaks shortly before the premiere have a small positive impact on expected revenues. This suggests that file-sharing may serve as a form of promotion.
"One consistent result is that file-sharing arrivals shortly before the theatrical opening have a modest positive effect on box office revenue. One explanation is that such releases create greater awareness of the film. This is also the period of heaviest advertising," Strumpf notes.
One of the advantages of this study compared to previous research is that it measures the direct effect of a movie leak on projected box office revenues. Previous studies mostly compared early versus late leaks, which is less accurate and may be influenced by other factors.
"For example, suppose studios added extra security to big budget movies which then have a delayed arrival to file-sharing networks. Then even if file-sharing has no impact at all, one would find that delayed arrival on file-sharing leads to higher revenues," Strumpf tells us.
Another upside of the research lies in the statistical precision. The data includes thousands of daily observations and relatively precise estimates, something lacking in most previous studies.
The downside, on the other hand, is that the expected box office impact is estimated from the Hollywood Stock Exchange. While this has shown to be a good predictor for actual revenues, it's not a direct measurement.
In any case, the paper suggests that file-sharing might not be the biggest threat the movie industry is facing.
Even if the negative effects were twice as big as the data suggests, it would still be less than the $500 million Hollywood spent on the MPAA's anti-piracy efforts during the same period.