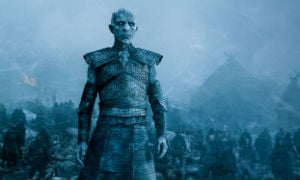 Late July it was reported that hackers had stolen proprietary information from media giant HBO.
The haul was said to include confidential details of the then-unreleased fourth episode of the latest Game of Thrones season, plus episodes of Ballers, Barry, Insecure, and Room 104.
"Hi to all mankind," an email sent to reporters read. "The greatest leak of cyber space era is happening. What's its name? Oh I forget to tell. Its HBO and Game of Thrones……!!!!!!"
In follow-up correspondence, the hackers claimed to have penetrated HBO's internal network, gaining access to emails, technical platforms, and other confidential information.
Image released by the hackers
Soon after, HBO chairman and CEO Richard Plepler confirmed a breach at his company, telling employees that there had been a "cyber incident" in which information and programming had been taken.
"Any intrusion of this nature is obviously disruptive, unsettling, and disturbing for all of us. I can assure you that senior leadership and our extraordinary technology team, along with outside experts, are working round the clock to protect our collective interests," he said.
During mid-August, problems persisted, with unreleased shows hitting the Internet. HBO appeared rattled by the ongoing incident, refusing to comment to the media on every new development. Now, however, it appears the tide is turning on HBO's foe.
In a statement last evening, Joon H. Kim, Acting United States Attorney for the Southern District of New York, and William F. Sweeney Jr., Assistant Director-in-Charge of the New York Field Division of the FBI, announced the unsealing of an indictment charging a 29-year-old man with offenses carried out against HBO.
"Behzad Mesri, an Iranian national who had previously hacked computer systems for the Iranian military, allegedly infiltrated HBO's systems, stole proprietary data, including scripts and plot summaries for unaired episodes of Game of Thrones, and then sought to extort HBO of $6 million in Bitcoins," Kim said.
"Mesri now stands charged with federal crimes, and although not arrested today, he will forever have to look over his shoulder until he is made to face justice. American ingenuity and creativity is to be cultivated and celebrated — not hacked, stolen, and held for ransom. For hackers who test our resolve in protecting our intellectual property — even those hiding behind keyboards in countries far away — eventually, winter will come."
According to the Department of Justice, Mesri honed his computer skills working for the Iranian military, conducting cyber attacks against enemy military systems, nuclear software, and Israeli infrastructure. He was also a member of the Turk Black Hat hacking team which defaced hundreds of websites with the online pseudonym "Skote Vahshat".
The indictment states that Mesri began his campaign against HBO during May 2017, when he conducted "online reconnaissance" of HBO's networks and employees. Between May and July, he then compromised a number of HBO employee user accounts and used them to access the company's data and TV shows, copying them to his own machines.
After allegedly obtaining around 1.5 terabytes of HBO's data, Mesri then began to extort HBO, warning that unless a ransom of $5.5 million wasn't paid in Bitcoin, the leaking would begin. When the amount wasn't paid, three days later Mesri told HBO that the amount had now risen to $6m and as an additional punishment, data could be wiped from HBO's servers.
Subsequently, on or around July 30 and continuing through August 2017, Mesri allegedly carried through with his threats, leaking information and TV shows online and promoting them via emails to members of the press.
As a result of the above, Mesri is charged with one count of wire fraud, which carries a maximum sentence of 20 years in prison, one count of computer hacking (five years), three counts of threatening to impair the confidentiality of information (five years each), and one count of interstate transmission of an extortionate communication (two years). No copyright infringement offenses are mentioned in the indictment.
The big question now is whether the US will ever get their hands on Mesri. The answer to that, at least through any official channels, seems to be a resounding no. There is no extradition treaty between the US and Iran meaning that if Mesri stays put, he's likely to remain a free man.
Wanted