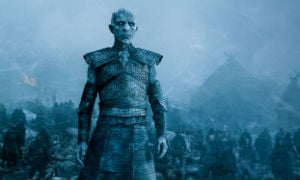 It appears that yet another large media outlet has fallen victim to a high-profile hack.
After Sony and, indirectly, Netflix, hackers have now compromised the network of the American cable and television network HBO.
Sunday evening a mysterious email was sent to reporters, announcing the prominent breach.
"Hi to all mankind. The greatest leak of cyber space era is happening. What's its name? Oh I forget to tell. Its HBO and Game of Thrones……!!!!!!" the email read.
While several reports were published, the first by Entertainment Weekly, the actual leaked files were not widely available on the usual pirate sites. However, a few hours ago a website appeared online that claims to hold the 'treasure trove.'
Winter-leak.com, a reference to the famous Game of Thrones "Winter is Coming" phrase, does indeed list several files that appear to come from HBO.
"In a complicate operation, we successfully penetrated in to the HBO Internal Network, Emails, technical platforms, and database and got precious and confidential stuff that blaze your eyes," the hacker, or hackers write on their website.
The hackers claim to have 1.5 terabytes of data from the company. So far, previously unreleased episodes of Ballers, Barry, Insecure and Room 104 are featured on the site. However, there are also three separate archives listed, with over a terabyte of data.
Most prominent, perhaps, is a preliminary outline of the fourth episode of the current Game of Thrones season, which will air this coming Sunday.
At TorrentFreak, we always strive to find proof for reported leaks, and from what we've seen and gathered, it does indeed appear to be the real deal. The Game of Thrones information, for example, lists a preliminary outline of the fourth episode of season 7, including many spoilers.
As can be seen below, the outline itself is watermarked by the hackers, with the tagline "HBO is falling."
Perhaps even more unusual, the leak also includes a video, featuring Game of Thrones images, the leaders, and a textual outline of the episode. As with the outline, the videos are available for the third and fourth episode of season 7.
HBO's chairman and CEO, Richard Plepler, has confirmed that the company's infrastructure was breached, but didn't mention what information was accessed. He sent an email to employees a few hours ago, informing them about the "cyber incident."
"As most of you have probably heard by now, there has been a cyber incident directed at the company which has resulted in some stolen proprietary information, including some of our programming," he wrote.
"Any intrusion of this nature is obviously disruptive, unsettling, and disturbing for all of us. I can assure you that senior leadership and our extraordinary technology team, along with outside experts, are working round the clock to protect our collective interests."
The full contents of the leaks have yet to be analyzed. It's doubtful that any Game of Thrones episodes will leak, but there's likely to be a lot of confidential information in the copied data, which HBO would otherwise prefer to keep to itself.
HBO has already mentioned that it's doing everything in its power to prevent the leaks from spreading any further. In addition, they are also working with law enforcement to track down the people responsible.